Music details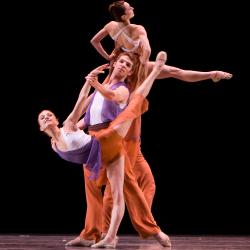 Premiere location place
Seattle, WA
Total number of dancers
12
Other program information
Assistant to the Choreographer:  Charlie Neshyba-Hodges
Violinists:  John Pilskog, Ingrid Fredrickson
Violists:  Scott Ligocki, Betty Agent
Cellist:  Page Smith
From the original program: "Brahms composed this string quintet (unusually scored fro two violins, two violas, and cello) while on a nature retreat in the summer of 1890. The music has a vivacious folk flavor, with the cello featured in the first movement and the viola, Brahms' favorite instrument, carrying the theme in the second. Twyla Tharp has choreographed the quintet's four movements for five couples."
Artistic director Peter Boal commissioned Tharp to create two new works for the Pacific Northwest Ballet: Afternoon Ball and Opus 111. The two works, performed back-to-back, form an opposition pair - one work bright and classical, the other cold and contemporary.
Opus 111 is a chamber ballet for six couples. The dancers are light, waltzing and loping through the four movements of the Brahms composition. The first section alternates couples and quartets; the second features a single couple in relief against the ensemble. The third and fourth movements roll through a series of variations on social, ballroom and folk dance forms. 
Videos
Video Description
Dancers of Pacific Northwest Ballet in performance.
Full music program
String Quintet No. 2 in G major, Op.111
Composed by Johannes Brahms - 1890
I. Allegro non troppo, ma con brio
II. Adagio
III. Un poco Allegretto
IV. Vivace ma non troppo presto
Music details
Waterbaby Bagatelles - Opus 111 - Nine Sinatra Songs | Pacific Northwest Ballet
Opus 111 - Afternoon Ball - Waterbaby Bagatelles | Pacific Northwest Ballet
Opus 111 (premiere) - Afternoon Ball (premiere) - Nine Sinatra Songs | Pacific Northwest Ballet
Opus 111 (preview) | Pacific Northwest Ballet
Pacific Northwest Ballet Studios