Music details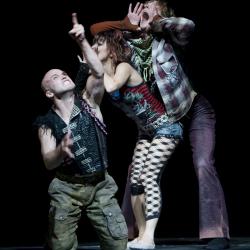 Premiere location place
Seattle, WA
Total number of dancers
5
Other program information
Conductor: Allan Dameron
Assistant to the Choreographer: Charlie Neshyba-Hodges
From the original program: "Vladimir Martynov's Autumn Ball of the Elves, for string orchestra, represents a Russian mix of minimalism and post-romanticism that can also be heard in the music of Estonian composer Arvo Part. (Both composers abandoned academic compositional styles following religious conversions and developed individual voices influenced by personal interests and convictions.) In Autumn Ball of the Elves, Martynov applies a theme and variations structure to a minimalist palette. " 
Artistic director Peter Boal commissioned Tharp to create two new works for the Pacific Northwest Ballet: Afternoon Ball and Opus 111. The two works, performed back-to-back, form an opposition pair – one work light and classical, the other cold and contemporary.       
Afternoon Ball is a portrait of a lost generation. Three ragamuffins perform simultaneous solos; their isolated dances finally merging into a disconnected trio.
One performer is transported to an earlier era, as two other dancers in Biedermeir costumes enter and warm lights rise. Composer Vladimir Martynov's references to Franz Schubert stand in stark contrast to the dissonance of the previous section. 
Full music program
Autumn Ball of the Elves
Composed by Vladimir Martynov - 1994
Music details
Afternoon Ball | Pacific Northwest Ballet
Afternoon Ball | Pacific Northwest Ballet
Afternoon Ball | Pacific Northwest Ballet
Afternoon Ball | Pacific Northwest Ballet
Afternoon Ball | Pacific Northwest Ballet
Afternoon Ball | Pacific Northwest Ballet
Opus 111 - Afternoon Ball - Waterbaby Bagatelles | Pacific Northwest Ballet
Opus 111 (premiere) - Afternoon Ball (premiere) - Nine Sinatra Songs | Pacific Northwest Ballet