Music details
Audio sample
Six Pianos 
By Steve Reich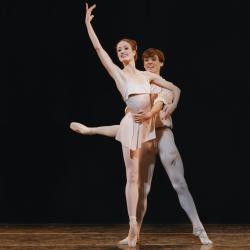 Premiere location place
New York, NY
Live music by
American Ballet Theatre Orchestra
Dance sections
I. Kent, Corella
II. Jaffe, Stiefel
III. Roberts, Braun with Jaffe, Kent, Stiefel, Corella and Konobeyeva, Shelkanova, Belotserkovsky, Picone, Gomes, Stewart
Total number of dancers
12
Other program information
Known By Heart is a compilation of three dances that, when performed together, presents a broad spectrum of music and movement. The opening duet, set to Mozart's "Danse Allemande," is a display of counterpoint, infused with folk and social dance references.
Junk Duet makes up the second section. Donald "The Junkman" Knaack's percussive score, played entirely on recycled materials, is an abrupt departure from the Mozart.
The third section is set to Steve Reich's minimalist composition "Six Pianos." Two men perform in mirrored unison; their duet forms the bass line on which the other dancers enter and exit in variations of earlier material. 
Videos
Video Description
Members of American Ballet Theatre in an excerpt from the third section.
Full music program
Danse Allemande
Composed by Wolfgang Amadeus Mozart
Transcribed by Robert E. Fertitta
Orchestration reconstructed by Anthony Sbordoni
Junk Music
Written and performed by Donald Knaack 
Six Pianos 
Composed by Steve Reich
Published by Hendon Music Inc., a Boosey & Hawkes company
Music details
Audio sample
Six Pianos 
By Steve Reich
Known By Heart (premiere) | American Ballet Theatre