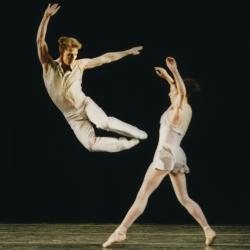 Premiere location place
Copenhagen, Denmark
Total number of dancers
2
Junk Duet was commissioned by Alexander Kølpin for the Sommerballett Festival in Denmark. He performed the classically structured pas de deux with Stacy Caddell. The duet was later included in Known By Heart, commissioned by American Ballet Theatre.
Tharp pits the two dancers against one another in a cartoonish competition. The percussive score by Donald "The Junkman" Knaack is played on 100% recycled materials. The scrapheap sounds enhance the comedic blend of exaggerated pantomime and classical ballet vocabulary. The ballerina dominates her partner until he cowers behind her henpecked and she takes her final bow. 
Videos
Video Description
Excerpts from dress and studio rehearsals featuring Ethan Steifel and Susan Jaffe of American Ballet Theatre.
Full music program
Junk Music
Composed by Donald Knaack
Released by The Moo Group - 1996
Junk Duet | Tom Gold Dance
Junk Duet | Nantucket Atheneum
Junk Duet | The Santa Fe Concert Association
The Lensic Performing Arts Center
Junk Duet | Beijing Dance Academy
Junk Duet | American Ballet Theatre
Tbilisi Opera and Ballet Theater
Junk Duet | American Ballet Theatre
Sinatra Suite - Junk Duet - In The Upper Room | American Ballet Theatre
Junk Duet | American Ballet Theatre
Junk Duet | American Ballet Theatre
Junk Duet | Tom Gold Dance
Junk Duet | Oregon Ballet Theatre
Octet - Junk Duet | Pittsburgh Ballet Theatre
Sinatra Suite - Junk Duet | American Ballet Theatre
Junk Duet - The Fugue - Westerly Round - Surfer At The River Styx |Twyla Tharp Dance
Junk Duet - The Fugue - Westerly Round - Surfer At The River Styx |Twyla Tharp Dance
Junk Duet - The Fugue - Westerly Round - Surfer At The River Styx |Twyla Tharp Dance
Junk Duet - The Fugue - Westerly Round - Surfer At The River Styx |Twyla Tharp Dance
Jacob's Pillow Dance Festival
The One Hundreds - Junk Duet - Westerly Round | Twyla Tharp Dance
Jacob's Pillow Dance Festival
Hammerklavier (premiere) - Junk Duet - Westerly Round (premiere) | Twyla Tharp Dance
Junk Duet - Push Comes To Shove | American Ballet Theatre
Junk Duet (premiere) | Stacy Caddell and Alexander Kølpin
Sommerballet på Frederiksberg