Music details
Audio sample
I Remember Clifford
By Lee Morgan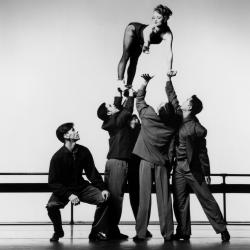 Premiere location place
Becket, MA
Dance sections
I. The Sidewinder: De Jesus and Arias, Bai, Carillo, Cooksey, Gomez, Henriksen, Mooradian, Pantaleon, Patrick, Russo, Swenson, Zambrano
II. Blue Rol: De Jesus with Swenson and Arias, Pantaleon, Patrick, Zambrano
III. Cascades: De Jesus with Cooksey, Gomes and Arias, Carrillo, Pantaleon, Russo
IV. Lonely Woman: De Jesus with Arias, Bai, Pantaleon and Carrillo, Gomez, Henriksen, Mooradian, Russo
V. Moanin': De Jesus with Cooksey, Gomez,  Henriksen, Mooradian and Arias, Bai, Caririllo, Pantaleon, Patrick, Russo, Swenson, Zambrano
VI. I Remember Clifford: The Company
Dancers
and Sandi Cooksey, Jennita Russo, Shan Bai, Krista Swenson, Christine Carrillo, Rhonda Henriksen
Alberto J. Arias, David Gomez, Joe Mooradian, Joseph Pantaleon, Jo Patrick, Mario Alberto Zambrano
Total number of dancers
13
Other program information
The creation of I Remember Clifford was the culmination of a five-year "Tharp Project" initiated by Lou Conte, founder of Hubbard Street Dance Chicago. In 1990, Conte obtained exclusive licenses for four of Tharp's works: The Fugue, Baker's Dozen, Sue's Leg and Nine Sinatra Songs. After four years of performing her repertory, the company commissioned Tharp to create a new work.
I Remember Clifford centers on a lead male dancer. He is a loner, isolated in the midst of the crowd and out of sync with those around him. The other dancers form duets, quartets and perform unison phrases. As the piece progresses, the loner finds his own rhythm and, though he does not assimilate, his place within the group.
Videos
Video Description
Excerpts featuring dancers of Hubbard Street Dance Chicago.
Full music program
1. The Sidewinder
Composed and performed by Lee Morgan
From the album "The Sidewinder"
Released by Blue Note Records - 1964
2. Blue Rol
Composed and performed by Roland Kirk
From the album "Now Please Don't You Cry, Beautiful Edith"
Released by Verve Records - 1967
3. Cascades
Composed and performed by Oliver Nelson
From the album "The Blues and The Abstract Truth"
Released by Impulse! Records - 1961
4. Lonely Woman
Composed and performed by Ornette Coleman
From the album "The Shape of Jazz to Come"
Released by Atlantic Records - 1959
5. Moanin'
Composed and performed by Charles Mingus
From the album "Blues & Roots"
Released by Atlantic - 1960
6. I Remember Clifford
Composed by Benny Golson
Performed by Lee Morgan
Released by Capitol Records
Music details
Audio sample
I Remember Clifford
By Lee Morgan
I Remember Clifford - Baker's Dozen | Hubbard Street Dance Chicago
I Remember Clifford - Fait Accompli | Hubbard Street Dance Chicago
Baker's Dozen - I Remember Clifford | Hubbard Street Dance Chicago
Baker's Dozen - I Remember Clifford | Hubbard Street Dance Chicago
Baker's Dozen - I Remember Clifford (premiere) | Hubbard Street Dance Chicago
Ted Shawn Theatre at Jacob's Pillow