Music details
Audio sample
All The Way
Performed by Frank Sinatra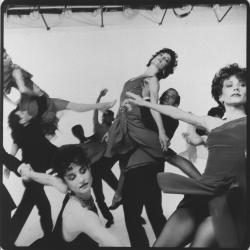 Premiere location place
Vancouver, Canada
Dance sections
I. Softly As I Leave You: Washington, Young
II. Strangers in the Night: Kellogg, Chryst
III. One For My Baby (and One More For the Road): Rudner, Carrafa
IV. My Way: Rudner, Carrafa, Washington, Young, Kellogg, Chryst
V. Somethin' Stupid: Uchida, Colton
VI. All the Way: Spencer, Kurshals
VII. Forget Domani: Way, Whitener
VIII. That's Life: Freydont, Rawe
IX. My Way: Freydont, Rawe, Uchida, Colton, Spencer, Kurshals, Way, Whitener, Rudner, Carrafa, Kellogg, Chryst, Washington, Young
Dancers
Shelley Freydont, Mary Ann Kellogg, Sara Rudner, Amy Spencer, Christine Uchida, Shelley Washington, Jennifer Way
John Carrafa, Gary Chryst, Richard Colton, Raymond Kurshals, Tom Rawe, William Whitener, Keith Young
Total number of dancers
14
Nine Sinatra Songs presents a glamorous portrait of seven couples that traces the arc of romantic relationships. The dancers swing, swirl, tango and cha-cha through a glittering ballroom.
It premiered on the same program as Bad Smells, meeting the gritty vision head on. 
Nine Sinatra Songs is one of Tharp's most frequently performed works and has become a mainstay in the repertories of professional dance companies worldwide.
Full music program
1. Softly, As I Leave You
Composed Antonio De Vita
Lyrics by Hal Sharper
Recorded by Frank Sinatra – 1964
From the Album "Softly, As I Leave You"
Released by Reprise Records
2. Strangers in the Night
Composed by Bert Kaempfert
Lyrics by Eddie Snyder
Recorded by Frank Sinatra – 1966
From the Album "Stranger's In The Night"
Released by Reprise Records
3. One For My Baby (And One More For The Road)
Written by Harold Arlen and Johnny Mercer – 1943
Recorded by Frank Sinatra – 1949
From The album "Frankly Sentimental"
Released by Columbia Records
4. My Way
Originally "Comme d'habitude"
Composed by Claude François and Jacques Revaux – 1967
Lyrics by Paul Anka
Recorded by Frank Sinatra – 1968
From the Album "My Way" – 1969
Released by Reprise Records
5. Somethin' Stupid
Written by C. Carson Parks
Recorded by Nancy and Frank Sinatra – 1967
From the Album "The World We Knew"
Released by Reprise Records
6. All the Way
Composed by Jimmy Van Heusen
Lyrics by Sammy Cahn
Recorded by Frank Sinatra – 1957
For the Film "The Joker Is Wild"
Published by Maraville Music Corporation
Released by Capitol Records
7. Forget Domani
Composed by Riz Ortolani
Lyrics by Normal Newell
Recorded by Frank Sinatra – 1965
From the Album "Frank Sinatra's Greatest Hits"
Released by Reprise Records – 1968
8. That's Life
Written by Dean Kay and Kelley Gordon
Frank Sinatra Recorded by Frank Sinatra – 1966
From the Album "That's Life"
Released by Reprise Records
9. My Way
Originally "Comme d'habitude"
Composed by Claude François and Jacques Revaux – 1967
Lyrics by Paul Anka
Recorded by Frank Sinatra – 1968
From the Album "My Way" – 1969
Released by Reprise Records
Music details
Audio sample
All The Way
Performed by Frank Sinatra
Nine Sinatra Songs | St. Louis Ballet
Touhill Performing Arts Center
Nine Sinatra Songs | Washington Ballet
Preludes And Fugues - Nine Sinatra Songs | Twyla Tharp Dance (Tour)
Tennessee Williams Theater
Nine Sinatra Songs | Ballet Idaho
The Fugue - Nine Sinatra Songs | Ballet de Lorraine
Opera national de Lorraine
Nine Sinatra Songs | Oklahoma City Ballet
Nine Sinatra Songs | Miami City Ballet
Broward Center for the Performing Arts
Nine Sinatra Songs | Miami City Ballet
Kravis Center for the Performing Arts
Nine Sinatra Songs | Miami City Ballet
Adrienne Arsht Center for the Performing Arts
Nine Sinatra Songs | Joffrey Ballet
Nine Sinatra Songs - In The Upper Room | Pittsburgh Ballet Theatre
Waiting at the Station (premiere) - Brief Fling - Nine Sinatra Songs | Pacific Northwest Ballet
Nine Sinatra Songs | Joffrey Ballet
Waterbaby Bagatelles - Opus 111 - Nine Sinatra Songs | Pacific Northwest Ballet
Nine Sinatra Songs | Sarasota Ballet
Push Comes To Shove - Surfer At The River Styx - Nine Sinatra Songs | Washington Ballet
The Kennedy Center for the Performing Arts
Nine Sinatra Songs | Ballet du Capitole
Nine Sinatra Songs | Washington Ballet
Nine Sinatra Songs | Miami City Ballet
Adrienne Arsht Center for the Performing Arts
Nine Sinatra Songs | Grand Rapids Ballet
Nine Sinatra Songs | Sacramento Ballet
Nine Sinatra Songs | Ballet San Jose
Nine Sinatra Songs | Alabama Ballet
Samford University Wright Center
Nine Sinatra Songs | Ballet Austin
Nine Sinatra Songs | Louisville Ballet
Nine Sinatra Songs | Ballet British Columbia
The Centre In Vancouver For Performing Arts
Opus 111 (premiere) - Afternoon Ball (premiere) - Nine Sinatra Songs | Pacific Northwest Ballet
Nine Sinatra Songs | Ballet West
Nine Sinatra Songs | Orlando Ballet
Nine Sinatra Songs | Nevada Ballet Theatre
Nine Sinatra Songs | Washington Ballet
Nine Sinatra Songs | North Carolina Dance Theatre
Nine Sinatra Songs | Pittsburgh Ballet Theatre
Nine Sinatra Songs | NBA Ballet Company
Nine Sinatra Songs | Tulsa Ballet
Nine Sinatra Songs | Sacramento Ballet
Nine Sinatra Songs | Louisville Ballet
Nine Sinatra Songs | Birmingham Royal Ballet
Nine Sinatra Songs | Pittsburgh Ballet Theatre
Nine Sinatra Songs | Colorado Ballet
Nine Sinatra Songs | Pacific Northwest Ballet
Nine Sinatra Songs | The Washington Ballet
Nine Sinatra Songs | Ballet British Columbia
Nine Sinatra Songs | Pennsylvania Ballet
Nine Sinatra Songs | Fundación Julio Bocca
Nine Sinatra Songs | Kansas City Ballet
Nine Sinatra Songs | Miami City Ballet
Baker's Dozen - Fait Accompli - Nine Sinatra Songs | Hubbard Street Dance Chicago
Octet - Brahms Paganini - As Time Goes By - Nine Sinatra Songs | Twyla Tharp Dance
Nine Sinatra Songs - Octet - Golden Section | Twyla Tharp Dance
Fever - Sextet - Demeter & Persephone - Nine Sinatra Songs - Baker's Dozen | Twyla Tharp Dance
Nine Sinatra Songs | Hubbard Street Dance Chicago
Ocean's Motion - The Little Ballet - Grand Pas: Rhythm of the Saints - Nine Sinatra Songs | Twyla Tharp and Dancers
Deuce Coupe (IV) - Octet - Nine Sinatra Songs | Twyla Tharp and Dancers
Deuce Coupe (IV) - Octet - Nine Sinatra Songs | Twyla Tharp and Dancers
Nine Sinatra Songs | American Ballet Theatre
Bums Rush - The Fugue - Nine Sinatra Songs | Twyla Tharp Dance
New Zealand International Festival of the Arts
Bums Rush - The Fugue - Nine Sinatra Songs | Twyla Tharp Dance
Bums Rush - The Fugue - Nine Sinatra Songs | Twyla Tharp Dance
Bums Rush - The Fugue - Nine Sinatra Songs | Twyla Tharp Dance
Bums Rush - The Fugue - Nine Sinatra Songs | Twyla Tharp Dance
Bums Rush - The Fugue - Nine Sinatra Songs | Twyla Tharp Dance
Ballare - The Fugue - Nine Sinatra Songs | Twyla Tharp Dance
Ballare - The Fugue - Nine Sinatra Songs | Twyla Tharp Dance
Brooklyn Academy of Music
Ballare - The Fugue - Nine Sinatra Songs | Twyla Tharp Dance
Ballare - The Fugue - Nine Sinatra Songs | Twyla Tharp Dance
Baker's Dozen - The Fugue - Nine Sinatra Songs | Twyla Tharp Dance
Teatro Comunale di Firenze
Ballare - The Fugue - Nine Sinatra Songs | Twyla Tharp Dance
Ballare - The Fugue - Nine Sinatra Songs | Twyla Tharp Dance
Ballare (premiere) - The Fugue - Nine Sinatra Songs | Twyla Tharp Dance
The Murray Theatre at Ravinia
Brahms Paganini - The Fugue - Nine Sinatra Songs | Twyla Tharp Dance
Sorrow Floats - The Fugue - Nine Sinatra Songs - Brahms Paganini | Twyla Tharp Dance
Eight Jelly Rolls - Sorrow Floats (premiere) - Nine Sinatra Songs | Twyla Tharp Dance
Sues Leg - Baker's Dozen - Nine Sinatra Songs | Twyla Tharp Dance
Nine Sinatra Songs - Eight Jelly Rolls - Assorted Quartets - Short Stories | Twyla Tharp Dance
Bad Smells (premiere) - Nine Sinatra Songs (premiere) - Sues Leg | Twyla Tharp Dance