Music details
Audio sample
That's My Weakness Now
Performed by The Paul Whiteman Orchestra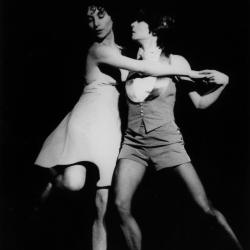 Premiere location place
Los Angeles, CA
Dance sections
Part One: The Bix Pieces
Part Two:  Why They Were Made
Part Three: Once Again  
Total number of dancers
5
Other program information
Performed on November 11, 1971 in Paris under the title True Confessions by Twyla Tharp, Sara Rudner, Rose Marie Wright, Isabel Garcia-Lorca, Kenneth Rinker, Mary Curry and Naomi Cohn.
The Bix Pieces is Tharp's first theatrical dance work combining dance, music and spoken dramatic text. The legato movement slips from section to section, building from solo to duet, trio to quartet.  A speaker onstage delivers a scripted lecture-demonstration, written by Tharp, while the dancers perform the final section.  
Video of the first performance of The Bix Pieces in Paris exists in the archives, along with hundreds of hours of undigitized rehearsal and performance footage. See The Bix Pieces on Camera 3 for a later recording.
Full music program
1.  In The Mist
By Bix Beiderbecke - 1927 
From the Album "The Bix Beiderbecke Story, Vol.3, Whiteman Days"
Published by EMI
2. 'Tain't So Honey, 'Tain't So
By Willard Robinson - 1928
Performed by the Paul Whiteman Orchestra
Published by Columbia Records
3. That's My Weakness Now
By Bud Green and Sam Stept - 1928
Performed by The Paul Whiteman Orchestra
Published by Columbia Records
4. Borneo
By Walter Donaldson
Performed by Frankie Trumbauer and His Orchestra  
Published by Okeh Records
5. Because My Baby Don't Mean Maybe Now
By Walter Donaldson - 1928
Performed by The Paul Whiteman Orchestra
Published by Columbia Records
6. I Want To Be Happy
By Vincent Youmans and Irving Caesar
For the musical "No, No, Nanette" - 1925 
Published by Columbia Records
7. OPUS 76 no. 3 Adagio
Composed by Joseph Haydn - 1796
8. Abide With Me
By William Henry Monk and Henry Francis Lyte - 1847
Performed by Thelonius Monk
Published by Riverside Records
Music details
Audio sample
That's My Weakness Now
Performed by The Paul Whiteman Orchestra
The Bix Pieces - Assorted Quartets - Short Stories - Baker's Dozen | Twyla Tharp Dance
The Hodge Podge - Mud - The Bix Pieces | Twyla Tharp Dance
Mud - The Fugue - The Bix Pieces | Twyla Tharp Dance
Brooklyn Academy of Music
The Hodge Podge (premiere) - Simon Medley (premiere) - Mud (premiere) - The Bix Pieces | Twyla Tharp Dance
Brooklyn Academy of Music
The Bix Pieces - Eight Jelly Rolls - The Fugue | Twyla Tharp Dance
The Raggedy Dances - The One Hundreds - The Bix Pieces - Eight Jelly Rolls | Twyla Tharp Dance
University of Pennsylvania
The Raggedy Dances - The Fugue - The Bix Pieces - Eight Jelly Rolls | Twyla Tharp Dance
The Raggedy Dances - The Fugue - The Bix Pieces - Eight Jelly Rolls | Twyla Tharp Dance
Eight Jelly Rolls - The One Hundreds - The Bix Pieces | Twyla Tharp Dance
The Raggedy Dances - The One Hundreds - The Bix Pieces | Twyla Tharp Dance
The Bix Pieces - The Raggedy Dances | Twyla Tharp Dance
Jacob's Pillow Dance Festival
The Bix Pieces | Twyla Tharp Dance
The Bix Pieces - The Raggedy Dances - The One Hundreds | Twyla Tharp Dance
The Bix Pieces - The Raggedy Dances (preview) | Twyla Tharp Dance
Torelli - The Bix Pieces (premiere) - The Fugue | Twyla Tharp Dance
The One Hundreds - The Bix Pieces (preview) | Twyla Tharp and Dancers
Galerie Theatre, Theatre de la Cite Internationale