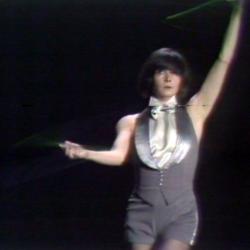 Premiere location venue
CBS Television
Other program information
Speaking by: Marian Hailey 
Setting by: Jim Ryan
Technical Director: Robert Vernum
Audio: Romeo Quaranta
Associate Director: Rowland Vance
Production Supervisor: Robert Getz
In cooperation with the N.Y. State Education Department
The Bix Pieces on Camera 3 was Tharp's first television production. The program is a straightforward presentation of The Bix Pieces choreography. There is no additional documentary or rehearsal sequence; simply a stage performance retrofitted for the one-size-fits-all television studio at CBS. As there were no wings for entrances and exits, the choreography was adjusted slightly to fit within the perimeter of the cyclorama. A stationary camera recorded from the center edge of the stage.  
The Bix Pieces on Camera 3 was the start of Tharp's collaborations with Merrill Brockway, which would later include Sue's Leg: Remembering the Thirties (1976) and Confessions of a Cornermaker (1981).
Videos
Video Description
Tharp, Wright, Rudner and Rinker perform in four brief excerpts.
Full music program
1.  In The Mist
By Bix Beiderbecke - 1927 
From the Album "The Bix Beiderbecke Story, Vol.3, Whiteman Days"
Published by EMI
2. 'Tain't So Honey, 'Tain't So
By Willard Robinson - 1928
Performed by the Paul Whiteman Orchestra
Published by Columbia Records
3. That's My Weakness Now
By Bud Green and Sam Stept - 1928
Performed by The Paul Whiteman Orchestra
Published by Columbia Records
4. Borneo
By Walter Donaldson
Performed by Frankie Trumbauer and His Orchestra  
Published by Okeh Records
5. Because My Baby Don't Mean Maybe Now
By Walter Donaldson - 1928
Performed by The Paul Whiteman Orchestra
Published by Columbia Records
6. I Want To Be Happy
By Vincent Youmans and Irving Caesar
For the musical "No, No, Nanette" - 1925 
Published by Columbia Records
7. OPUS 76 no. 3 Adagio
Composed by Joseph Haydn - 1796
8. Abide With Me
By William Henry Monk and Henry Francis Lyte - 1847
Performed by Thelonius Monk
Published by Riverside Records