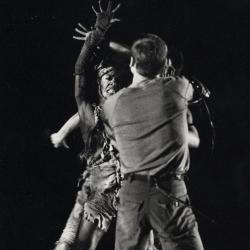 Premiere location place
Vancouver, Canada
Total number of dancers
7
Other program information
A camera operator moves onstage amongst the dancers in Bad Smells, the live video feed projected on the back wall. Extreme close-ups, inverted images and jolting camera movements create a warped reiteration of the thrashing choreography. The floor, covered in silver mylar, twists the dancers' reflections, adding another layer of distortion to the projected image. It is in this skewed environment that the dancers perform a final act of ritual sacrifice. 
Bad Smells premiered on the same program as Nine Sinatra Songs, preceeding the glamorous fantasy.
Videos
Video Description
Edited excerpt of studio rehearsal with live camera footage.
Full music program
Bad Smells
Commissioned by Twyla Tharp
Recorded by Glenn Branca and John Giorno
Featuring Lee Ranaldo and Thurston Moore
Written by Glenn Branca
From the album "Who You Staring At?" - 1982
Released by Giorno Poetry Systems
 
Music details
Music track
webmusic-badsmells.mp3
Audio sample
Bad Smells by Glenn Branca
Assorted Quartets (a.k.a Four Down Under) - Little Ballet - Bad Smells - Golden Section | Twyla Tharp Dance
New Zealand International Festival of the Arts
Little Ballet - Assorted Quartets (a.k.a.Four Down Under) - Bad Smells - Golden Section | Twyla Tharp Dance
Little Ballet - Assorted Quartets (a.k.a.Four Down Under) - Bad Smells - Golden Section | Twyla Tharp Dance
Little Ballet - Assorted Quartets (a.k.a Four Down Under) - Bad Smells - Golden Section | Twyla Tharp Dance
Little Ballet - Assorted Quartets (a.k.a.Four Down Under) - Bad Smells - Golden Section | Twyla Tharp Dance
Little Ballet - Assorted Quartets (a.k.a.Four Down Under) - Bad Smells - Golden Section | Twyla Tharp Dance
Bad Smells (premiere) - Nine Sinatra Songs (premiere) - Sues Leg | Twyla Tharp Dance