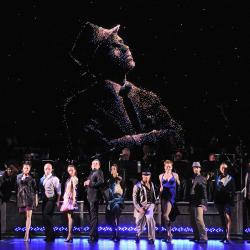 Premiere location place
Atlanta, GA
Producer
Nicholas Howey
W.A.T. Ltd.
Live music by
The Come Fly With Me Band
Principals
Holley Farmer
Laura Mead
Rika Okamoto
Karine Plantadit
Matthew Dibble
Charlie Neshyba-Hodges
Keith Roberts
John Selya
Soloists
Alexander Brady  (Maitre d') 
Ensemble
Carolyn Doherty, Heather Hamilton, Ashley Tuttle, Todd Burnsed, Eric Otto, Justin Peck, Kristine Bendul, Jodi Melnick, Joel Prouty, Matt Rivera, John Sorenson-Jolink
Total number of dancers
20
Other program information
Sound Design: Peter McBoyle
On-Line Producer: Randall A. Buck
Rehearsal Directors: Alexander Brady, Keith Roberts
Musical Coordinator: Music Services International
Music Production Supervisor: Sam Lutfiyya
The Come Fly With Me Band
Co-Band Leader, Piano, Featured Vocalist: Dee Daniels
Co-Band Leader, Drums: Dennis Mackrel
Reed I: Jerry Dodgion
Reed II: David D'Angelo
Reed III: Doug Lawrence
Reed IV: Tom Colclough
Reed V: Richard Jones
Trumpet I: Joey Tartell
Trumpet II: Tim Burke
Trumpet III: Greg Cole
Trumpet IV: Lester Walker
Trombone I: Dave Grott
Trombone II: Mark Miller
Trombone III: Bob Lewis
Trombone IV: Lee Watts
Bass: David Young
Guitar: Felton Offard
Tharp's long-standing relationship to the music of Frank Sinatra began with a pure-dance duet in 1976 (Once More, Frank). This developed into a character study for fourteen dancers in 1982 (Nine Sinatra Songs), and later, a dramatic, narrative duet (Sinatra Suite). 
Come Fly With Me marks the beginning of a series of large-scale productions that combine Tharp's choreography with Sinatra's recorded voice accompanied by a live band. The show follows eight characters through shifting affections and allegiances, revealing the complexities and conflicts that arise in one evening. 
Videos
Video Description
A brief excerpt from a workshop performance in New York, 2008.
Full music program
List of songs in order of appearance:
1. Stardust
Composed by Hoagy Carmichael – 1927
Lyrics by Mitchell Parish – 1929
From the album "Sinatra and Strings"
Released on Reprise Records – 1962
2. I've Got The World On A String
Composed by Harold Arlen
Lyrics by Ted Koehler
From the album "This Is Sinatra"
Released by Capitol Records – 1956
3. Let's Fall in Love
Words and Music by Ted Koehler and Harold Arlen – 1933
Recorded by Sinatra – 1960
Released by Bourne Co.
4. What a Wonderful World
Composed by Bob Thiele and George David Weiss – 1968
5. Summer Wind
Composed by Henry Mayer
Lyrics by Johnny Mercer – 1965
From the album "Strangers in the Night"
Released by Reprise Records – 1966
6. Fly Me to the Moon (In Other Words)
Words and Music by Bart Howard – 1954
From the album "It Might As Well Be Swing"
Released by Reprise Records – 1964
7. I've Got a Crush On You
Composed by George Gershwin
Lyrics by Ira Gershwin – 1930
Originally recorded by Sinatra – 1947
8. Body and Soul
Composed by Johnny Green
Lyrics by Frank Eyton, Edward Heyman and Robert B. Sour – 1930
From the album "Frankly Sentimental"
Released by Columbia Records – 1949
9. It's All Right With Me
Words and Music by Cole Porter
Recorded by Sinatra for the film "Can-Can" – 1960
10. You Make Me Feel So Young
Composed by Josef Myrow
Lyrics by Mack Gordon – 1946
From the album "Sinatra at the Sands"
Released by Reprise Records – 1966
11. The September Of My Years
Composed by Jimmy Van Heusen
Lyrics by Sammy Cahn
From the album "September of my Years"
Released by Reprise Records – 1965
12. Witchcraft
Composed by Cy Coleman
Lyrics by Carolyn Leigh – 1957
From the album "All The Way"
Released by Capitol Records – 1961
13. Learnin' the Blues
Written by Dolores Vicki Silvers – 1955
From the album "Sinatra-Basie: An Historical Musical First"
Released by Reprise Records – 1962
14. That's Life
Written by Dean Kay and Kelly L. Gordon
From the album "That's Life"
Released by Reprise records – 1966
15. Nice 'n' Easy
Composed by Alan Bergman, Marilyn Keith and Lew Spence
From the album "Nice 'n' Easy"
Released by Capitol Records - 1960
16. Makin' Whoopee
Composed by Walter Donaldson
Lyrics by Gus Kahn
From the album "Songs for Swingin' Lovers"
Released by Capitol Records – 1956
17. Jumpin' at the Woodside
Written by Count Basie and Jon Hendricks
From the album "Count Basie Live At The Sands (Before Frank)"
Released by Reprise records – 1998
18. Saturday Night Is the Loneliest Night of the Week
Composed by Jule Styne
Lyrics by Sammy Cahn
Released by Columbia Records – 1944
19. I'm Gonna Live 'Til I Die
Words and music by Al Hoffman, Walter Kent and Manny Kurtz
From the B-side "Melody Of Love"
Released by Capitol Records – 1955
20. Pick Yourself Up
Composed by Jerome Kern
Lyrics by Dorothy Fields – 1936
From the album "Sinatra and Swingin' Brass"
Released by Reprise Records – 1962
21. How Deep Is The Ocean?
Words and Music by Irving Berlin – 1932
From the album "Nice 'n' Easy"
Released by Capitol Records - 1960
22. Let's Face the Music and Dance
Words and Music by Irving Berlin – 1936
From the album "Ring-a-Ding-Ding"
Released by Reprise Records – 1961
23. Teach Me Tonight
Composed by Gene De Paul
Lyrics by Sammy Cahn – 1953
From the album "L.A. Is My Lady"
Released by Warner Bros. Records – 1984
24. Take Five
Composed by Paul Desmond – 1959
Originally Performed by The Dave Brubeck Quartet
25. Just Friends
Composed by John Klenner
Lyrics by Sam M. Lewis – 1931
From the album "No One Cares"
Released by Capitol Records – 1959
26. Lean Baby
Written by Roy Alfred and Billy May
From the album "Swing Easy"
Released by Capitol Records – 1954
27. One for My Baby (And One More for the Road)

Written by Johnny Mercer and Harold Arlen – 1943

From the album "Sinatra at the Sands"

Released by Reprise Records – 1966
28. My Funny Valentine
Words and music by Richard Rodgers and Lorenz Hart – 1937
From the album "Songs for Young Lovers"
Released by Capitol Records – 1954
29. Airmail Special
Composed by Charlie Christian, Benny Goodman and James Mundy
30. My Way
Composed by Claude Francois and Jacques Revaux – 1967
Lyrics by Paul Anka – 1968
From the album "My Way"
Released by Reprise Records – 1969
31. New York, New York (Theme)

Composed by John Kander

Lyrics by Fred Ebb
From the album "Trilogy: Past, Present and Future"

Released by Reprise Records – 1980
32. All The Way
Composed by Jimmy Van Heusen
Lyrics by Sammy Cahn
From the film "The Joker is Wild" – 1957
Come Fly With Me - Atlanta (premiere)