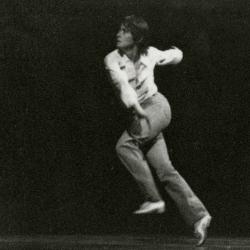 Premiere location place
New York, NY
Dance sections
I. Texas Quickstep
   Fifty Year Ago Waltz
   Rat Cheese Under the Hill
   Cacklin' Hen and Rooster Too
   Katy Did
   Took My Gal A-Walkin'
   Fresno Blues
   Alabama Jubilee
      Danced by: Rawe, Way, Washington, Uchida
II. Billy In the Low Ground
      Danced by: deAngelo
III. I'm Sad and Blue
   A Corn Licker Still in Georgia
   Good Bye Little Bonnie
   Alabama Jubilee
      Danced by: Anderson, Messmer, Rodriguez, Sultzbach
   Lost Child
      Danced by: Rawe, Way, Washington, Uchida
   Reprise
      Danced by: Anderson, Messmer, Rodriguez, Sultzback
IV. Cacklin' Hen and Rooster Too
      Danced by: Wright, Chryst, Colton, Hilding, Rawe, Whitener
Dancers
The Joffrey Ballet:
Ann Marie D'Angelo, Cynthia Anderson, Carol Messmer, Beatriz Rodriguez

Russell Sutlzbach, Gary Chryst, Richard Colton, Jerel Hilding, William Whitener
Twyla Tharp Dance:
Tom Rawe, Christine Uchida, Shelley Washington, Jennifer Way, Rose Marie Wright
Total number of dancers
14
Other program information
From the original program: "Rose Marie Wright, Tom Rawe, Jennifer Way, Shelley Washington and Christine Uchida are making a guest appearance through the courtesy of the Twyla Tharp Dance Foundation Inc.
Twyla Tharp, Artistic Director
Rhoda Grauer, Executive Director."
Happily Ever After was the second work to merge Tharp's company with The Joffrey Ballet. Whereas Deuce Coupe meshed the groups into a single cast, Happily Ever After presented each company separately. The opening section was performed by Tharp dancers; the following by Joffrey. The two companies performed together only once, in the fourth and final section. 
Set to a suite of bluegrass songs, this work expands the energetic partnering of Country Dances, while incorporating unison group phrases and a long female solo.
Full music program
Live Music By:
Homer (Pappy) Sherrill and Snuffy Jenkins
with their band "The Hired Hands," featuring Harold Lucas and Kenny Meggs.
Texas Quickstep
Fifty Year Ago Waltz
Rat Cheese Under the Hill
Cacklin' Hen an Rooster Too
Katy Did
Took My Gal A-Walkin'
Fresno Blues
Billy In the Low Ground
I'm Sad and Blue
A Corn Licker Still in Georgia
Good Bye Little Bonnie
Alabama Jubilee
Lost Child
Reprise
Cacklin' Hen and Rooster Too
Happily Ever After (premiere) | The Joffrey Ballet and Twyla Tharp Dance