Music details
Audio sample
Little Deuce Coupe
Performed by the Beach Boys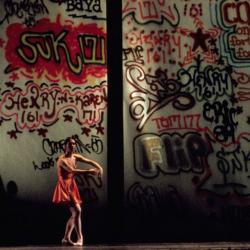 Premiere location place
Chicago, IL
Dancers
The Joffrey Ballet: Henry Berg, Larry Grenier, Eileen Brady, Erika Goodman, Glenn White, Donna Cowen, William Whitener, Beatriz Rodriguez, Starr Danias, Christine Uchida, Rebecca Wright
Twyla Tharp Dance: Isabel Garcia-Lorca, Kenneth Rinker, Sara Rudner, Twyla Tharp, Nina Wiener, Rose Marie Wright
Total number of dancers
17
Other program information
 From the March 27th, 1973 program:
"Thanks to United Graffiti Artists Hugo Martinez, Phase 2, Snake I, Rick II, Stitch I, Coco 144, SJK 171, Jec, Ray-B 954, Stay High 149, Soda I, C.A.T. 87, Rican 619, Riff 170, Charmin 65, Lee 163, Henry 161, Cano I, Snake 131, Bug 170, Nova I, Tom 177, and for their participation in this ballet." 
 
Commissioned by Robert Joffrey for The Joffrey Ballet, Deuce Coupe stands both as Tharp's first major commission and the first cross-over ballet, a dance that forms a bridge between modern and classical styles. Set to songs by the iconic American band The Beach Boys, Tharp merged her company with the Joffrey Ballet and created a work that showcased each company's strengths.
Grounding the piece in classical technique, a solo ballerina dressed in white unflinchingly executes the entire ballet vocabulary from "Ailes de Pigeon" to " Voyagé" throughout the dance. She is the eye of the hurricane as the rest of the dancers swirl and boogie around her.
Tharp hired graffiti artists – artists considered vandals and criminals at the time - to spray paint the backdrop live onstage, challenging the exclusivity of "high art." Scrolls of white canvas were slowly rolled upwards, eventually covering the entire backdrop with the artists' tags. 
Videos
Video Description
Excerpts of Tharp company dancers and The Joffrey Ballet in performance.
Full music program
1. Cuddle Up Intro
2. Little Deuce Coupe:
Written by Brian Wilson and Roger Christian
From the Album "Little Deuce Coupe" – 1963
3. Little Honda:
Written by Brian Wilson and Mike Love
From the Album "All Summer Long" – 1964
4. Devoted To You:
Written by Felice and Boudleaux Bryant
From the Album "Beach Boys Party!" – 1965
5. How She Boogalooed It:
Written by Mike Love, Bruce Johnson, Al Jardine, Carl Wilson
From the Album "Wild Honey" – 1967
6. Cuddle Up Interlude
7. Alley Oop:
Written by Dallas Frazier
From the Album "Beach Boys Party!" – 1965
8. Take A Load Off Your Feet:
Written by Al Jardine, Brian Wilson and Gary Winfrey
From the Album "Surf's Up" – 1971
9. Long Tall Texan:
Written by Henry Strezlecki
From the Album "Beach Boys in Concert" – 1964
10. Papa-Oom-Mow-Mow:
Written by Carl White, Al Frazier, Sonny Harris and Turner Wilson Jr.
From the Album "Beach Boys in Concert" – 1964
11. Catch a Wave:
Written by Brian Wilson and Mike Love
From the Album "Surfer Girl" – 1963
12. Get To Know The Woman:
Written by Dennis Wilson
From the Album "Sunflower" – 1970
13. Cuddle Up Interlude
14. Don't Go Near The Water:
Written by Mike Love and Al Jardine
From the Album "Surf's Up" – 1971
15. Cuddle Up Interlude
16. Mama Says:
Written by Brian Wilson and Mike Love
From the Album "Wild Honey" – 1967
17. Wouldn't It Be Nice:
Written by Brian Wilson, Tony Asher and Mike Love
From the Album "Live in London" -1970
18. Cuddle Up:
Written by Brian Wilson and Daryl Dragon
From the Album "Carl and the Passions – "So Tough" – 1972
Music details
Audio sample
Little Deuce Coupe
Performed by the Beach Boys
Deuce Coupe | The Juilliard School
Deuce Coupe | The Juilliard School
Deuce Coupe | The Juilliard School
Deuce Coupe | The Juilliard School
Deuce Coupe (V) | University of North Carolina School of the Arts
Deuce Coupe | Royal Winnipeg Ballet
Deuce Coupe (IV) - Octet - Nine Sinatra Songs | Twyla Tharp and Dancers
Deuce Coupe (IV) - Octet - Nine Sinatra Songs | Twyla Tharp and Dancers
Deuce Coupe (IV) - LittleBallet - Men's Piece - The Golden Section | Twyla Tharp and Dancers
Wexner Center for the Arts
Octet (premiere) - Men's Piece (premiere) - Deuce Coupe (IV) | Twyla Tharp and Dancers
Wexner Center for the Arts
Deuce Coupe | The Joffrey Ballet and Twyla Tharp Dance
Deuce Coupe | The Joffrey Ballet and Twyla Tharp Dance
Deuce Coupe | The Joffrey Ballet and Twyla Tharp Dance
Deuce Coupe | The Joffrey Ballet and Twyla Tharp Dance
San Francisco Opera House
Deuce Coupe | The Joffrey Ballet and Twyla Tharp Dance
Deuce Coupe (premiere) | The Joffrey Ballet and Twyla Tharp Dance