Music details
Audio sample
Us Together
By John Simon and Twyla Tharp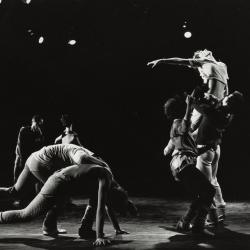 Premiere location place
Hartford, CT
Dance sections
I. The Hard Circus
Way, Uchida, Colton, Ferro, Mayotte, Carrafa, Rudner
II. Parts From The Boy's Education
A. Calisthetics
Rawe, Kurshals, Ferro, Whitener, Mayotte
B. Fire
Wright, Rawe, Way, Washington, Uchida, Kurshals, Colton, Ferro, Whitener, Mayotte,Carrafa
C. Mickey Mouse
Uchida, Kurshals, Ferro, Whitener, Mayotte
III. Street From The Night Before
Rudner, Wright, Rawe, Way, Washington, Uchida, Kurshals, Colton, Ferro, Whitener, Mayotte, Carrafa
Dancers
John Carrafa, Richard Colton, Anthony Ferro, Raymond Kurshals, France Mayotte, Tom Rawe, Sara Rudner, Christine Uchida, Shelley Washington, Jennifer Way, William Whitener, Rose Marie Wright
Total number of dancers
12
Other program information
From original program: "Three sections extracted from a larger piece, these dances could be considered in the same manner as short stories released before a completed novel. Work on this piece was begun during a company residency sponsored by Boston University in the summer of 1978. The production and recording of "Us Together" by John Simon was made possible by a grant from the David Merrick Arts Foundation."
Chapters And Verses is based on theatrical forms developed by the Federal Theatre Project during The Great Depression. Utilizing text, props and dance, the piece is a portrait of a group of teenagers growing up in a post-Vietnam, Walt Disney America. Chapters And Verses premiered after the filming of Hair was completed and is the precursor to Tharp's 1980 Broadway production, When We Were Very Young.
Videos
Video Description
Brief excerpts of company dancers in dress rehearsal.
Full music program
1. Pride of America
Composed by Edwin Franko Goldman
Date unknown
2. Ain't Got No Home
Written by Clarence Frogman Henry - 1956
Recorded by The Band
Released by Capitol Records – 1973
3. The Mickey Mouse Club Opening March
Composed by Jimmy Dodd
Published by Hal Leonard Corporation – 1955
4. Us Together
Written by John Simon and Twyla Tharp – 1979 
Music details
Audio sample
Us Together
By John Simon and Twyla Tharp
Sue's Leg - The Fugue - Three Dances From The Film ""Hair" - Chapters And Verses |Twyla Tharp Dance
Brooklyn Academy of Music
Baker's Dozen (premiere) - Three Dances From Hair (premiere) - 1903 - Chapters And Verses | Twyla Tharp Dance
Brooklyn Academy of Music
Chapters And Verses (premiere) - 1903 (premier) - The Fugue - Sue's Leg | Twyla Tharp Dance