Music details
Audio sample
Solo (Live Recording With Narration)
Speaking Voices: Thomas Babe and Gayle Meyers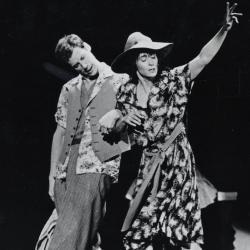 Premiere location place
New York, NY
Ensemble
Shelley Freydont, Christine Uchida, Shelley Washington, Jennifer Way, Rose Marie Wright, Richard Colton, Anthony Ferro, John Malashock, William Whitener
Dancers
Jane........Twyla Tharp
Dan.........Tom Rawe
Jason.......Raymond Kurshals
Megan.....Katie Glasner
Juggler....John Carrafa
Narrators: Thomas Babe and Gayle Meyers
Tharp's first work for Broadway is a dance theatre piece titled When We Were Very Young. She collaborated with playwright Thomas Babe and songwriter John Simon on the production. Referencing A.A. Milne's collection of poems by the same title, the piece follows Jane, a mother who struggles to be free of the responsibilities of domestic life.
Like Bertolt Brecht's Epic Theatre, When We Were Very Young is structured as a montage, combining text, music and dance in a theatrical narrative. "This has been a lot harder than writing a play by myself because of all the elements involved, but it is one of the most exciting things I've worked on in my life," stated Thomas Babe shortly before the premiere. "It's been like trying to discover penicillin: You don't know what the result will be, but you know you're close."
The story is narrated by Jane's son and granddaughter. They tell the story of Jane's life from their perch above the stage. Babe included excerpts from Milne's poetry in the script to illuminate the narrative: "James James said to his Mother / 'Mother,' he said, said he; / 'You must never go down to the end of the town,
 / if you don't go down with me.'" (from "Disobedience" by A. A. Milne, 1924)
Jane does eventually go "down to the end of town" when she steps off the front of the stage into the orchestra pit.
Full music program
Original Music by John Simon
1. Fanfare
2. Pas de Deux
3. Transition
4. Street
5. The Trial
6. Living Room Romp
7. Match Girl Theme
8. Rosewood Piano
9. Manners
10. Strength
11. Charm
12. Sensuality
13. Circus In The Snow
14. Match Girl (Flower)
15. Circus (Tuba)
16. Afterwards
17. Disco
18. Solo (Live Recording With Narration)
Music details
Audio sample
Solo (Live Recording With Narration)
Speaking Voices: Thomas Babe and Gayle Meyers
When We Were Very Young (premiere) | Twyla Tharp Dance