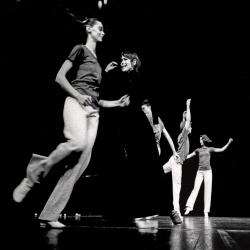 Premiere location place
Minneapolis, MN
Dance sections
I. Morning Song
Moss with Rudner, Wright, Garcia-Lorca, Rinker, Wiener and Rawe
II. First Assumption
Hailey
III. Egg Stories
Hailey and Wright
IV. Beginnings
Moss with Rudner, Wright, Garcia-Lorca, Rinker, Wiener and Rawe
V. Second Assumption
Hailey
VI. Which Came First
Hailey with Wright, Garcia-Lorca, Rinker, Wiener and Rawe
VII. Two and Two
Moss with Tharp, Rudner, Wright, Garcia-Lorca, Rinker, Wiener and Rawe
VIII. Third Assumption
 Hailey
IX. Eggs
Garcia-Lorca and Wiener
Total number of dancers
7
Other program information
Actress: Marian Hailey 
Production Stage Managers: Pennie Curry and Richard Cleary
From the original program:  "Morning Song, Beginnings, Two and Two, Eggs, The Egg Stories and Which Came First by Jeffrey Moss. The line "Eggs don't bounce," is from Mr. John Percival's review of Twyla Tharp's piece Re-Moves (Dance and Dancers, May, 1967).
The premiere of In The Beginnings was made possible by the good spirits of Suzanne Weil."
In The Beginnings was billed as a collaboration between Tharp, the dancers, Jeffrey Moss (composer / writer), Jennifer Tipton (lighting designer) and Marian Hailey (actress).  The theatrical elements came together to form an absurdist play. The loose-limbed, free-swinging choreography is accompanied alternately by music and monologues.  
Videos
Video Description
Company dancers in a performance excerpt. 
Full music program
Original score composed by Jeffrey Moss. 
In The Beginnings (premiere) - The Fugue - Eight Jelly Rolls | Twyla Tharp Dance