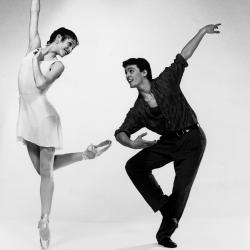 Premiere location place
New York, NY
Live music by
American Ballet Theatre Orchestra
Dance sections
I. Believe Me, If All Those Endearing Young Charms:
Kent, Hill, Dunham, Askegard, McKerrow, Maynard, Roberts and Fagundes, Lewis, Lynn, Scala, Wilder, Fagan, Grothman, Hyde, Pierce, Reeder
II. Circus Bee, Rolling Thunder:
Renvall with Maynard, Roberts and Fagundes, Lewis, Lynn, Scala, Wilder, Fagan, Grothman, Hyde, Pierce, Reeder
III. Jeanie With the Light Brown Hair:
Jaffe, Brown, Dunn, Martin, O'Connor, Barbee, Brown, Martin, Kent, Hill, Dunham, Askegard, McKerrow, Maynard, Roberts and Owen
IV. The Old Folks Quadrille: 
Brown, Dunn, Martin, O'Connor, Barbee, Brown, Martin and Owen, Fagundes, Lewis, Lynn, Scala, Wilder, Fagan, Grothman, Hyde, Pierce, Reeder
V. The Glendy Burk:
Renvall, Barbee, Brown, Fagan, Grothman, Hyde, Martin, Pierce, Reeder
VI. Hard Times, Come Again No More:
Jaffe, Kent, Hill, Dunham, Askegard, McKerrow, Maynard, Roberts and Owen, Brown, Ferrel, Fagundes, Lewis, Lynn, Martin, O'Connor, Scala, Barbee, Brown, Fagan, Grothman, Hyde, Martin, Pierce, Reeder
VII. Moto Perpetuo, Opus 11:
Jaffe, Renvall, Kent, Hill, Dunham, Askegard, McKerrow, Maynard, Roberts 
VIII. Americans We:
Company
Soloists
Gabrielle Brown, Christine Dunham, Elizabeth Dunn, Julie Kent, Amanda McKerrow, Laura Martin, Rosalie O'Connor
Charles Askegard, Victor Barbee, Ethan Brown, Robert Hill, Christopher Martin, Parrish Maynard, Keith Roberts
Other program information
During a residency at the Kennedy Center in 1994, Tharp began work on a series of phrases that later evolved into Americans We, a work for American Ballet Theatre.
The choreography is quick and lively. Tharp's distinctive combination of folk, popular and classical forms is decidedly American – a melting pot of movement. The music, rooted in the works of songwriter Stephen Foster, infuses the ballet with the nineteenth century nationalism of the pre-Civil War era.
Videos
Video Description
Members of Twyla Tharp Dance in an early version of Americans We, followed by an excerpt featuring members of American Ballet Theatre. 
Full music program
"Suite of Nineteenth Century American Favorites"
1. Believe Me, If All Those Endearing Young Charms: Traditional
2. Circus Bee, Rolling Thunder
Composed by Henry Filmore
3. Jeanie With the Light Brown Hair
Composed by Stephen Foster
4. The Old Folks Quadrille
Composed by Stephen Foster
5. The Glendy Burk
Composed by Stephen Foster
6. Hard Times, Come Again No More
Composed by Stephen Foster
7. Moto Perpetuo, Opus 11
Composed by Niccolo Paganini
8. Americans We
Composed by Henry Filmore
Elements (premiere) - How Near Heaven - Americans We | American Ballet Theatre
Americans We (premiere) - How Near Heaven - Jump Start (premiere) | American Ballet Theatre