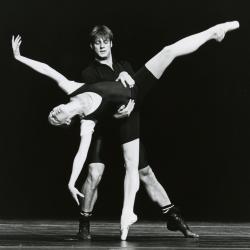 Premiere location place
Washington, DC
Dance sections
I. Marsalis
    -Lecture
II. Ellington
    -Lecture
III. Phrases
    a)Wynton
    b)Kraftwerk
    c)Slide
    d)Blues w/props
IV. Pigeon Waltz
    -Lecture
V. Gluck
    -Introductions
VI. Still of the Night
VII. Bartok
    -Lecture: Counterpoint phrases
VIII. Burundi Drums
IX. Battle Hymn
Other program information
Musical Advisor and General Counsel: Leon Wieseltier
Assistant to Ms. Tharp: Susan Scannella
From the orginal program:  "The dancers would like to thank the following wonderful people: Richard Aliq-Bicoy, Joan Bingham, Antoinette Bradlee, Marcia McGee Carter, Caroline and Pail Cronson, Gearge Dant, Katherine Fitzhugh and Jhn Martin, Jesse Frohman, Sue Landini, Michael Lewis, Don McBride, Larry McMurtry, Naima Prevots. 
These performances are made possible in part by a grant from the Dorothy Jordan Chadwick Fund."
In the summer of 1994, Tharp and company began a two-month residency at the Kennedy Center in Washington, D.C. The culminating performance Twyla Tharp In Washington: New Works is a lecture/demonstration-style presentation of the material Tharp developed over that summer.
Tharp first introduced the lecture/demonstration format in the late 1960s. She often used the format to deconstruct completed works. Twyla Tharp in Washington, however, was scripted and choreographed simultaneously.
Videos
Video Description
Tharp and company dancers in an excerpt from "Burundi Drums."
Twyla Tharp In Washington: New Works (a.k.a Red White & Blue) | Twyla Tharp Dance
Brooklyn Academy of Music
Twyla Tharp In Washington: New Works (premiere) | Twyla Tharp Dance
Kennedy Center for the Performing Arts