Music details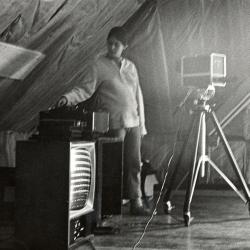 Premiere location venue
Attic of the house in New Berlin
Premiere location place
New Berlin, NY
Other program information
The premiere date is an estimation of when Tharp first began recording her improvisations in New Berlin, New York. 
The Willie Smith Series is approximately seventeen hours of videotaped dance improvisations recorded over the course of Tharp's pregnancy. She improvised daily to a Willie Smith vinyl, but recorded only half an hour every other week. Tharp focused on movement possibilities that developed as her pregnancy progressed. These recordings were later used to build material for Baker's Dozen (1979). 
Videos
Video Description
Excerpts of Tharp in the farmhouse attic.
Full music program
Various records by Willie "The Lion Smith"
Echoes of Spring
Published by Commodore Records in 1939
Music details