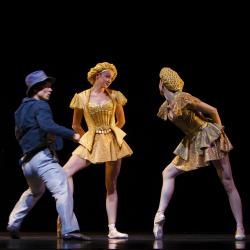 Premiere location place
Seattle, WA
Ensemble
Leta Biasucci, Amanda Clark, Jahna Frantziskonis, Angelica Generosa, Leah Merchant, Elizabeth Murphy
Andrew Bartee, Ryan Cardea, Kyle Davis, Eric Hipolito Jr., Steven Loch, Ezra Thomson
Dancers
Father:    James Moore
Son:        Price Suddarth
Quartet:  Carrie Imler and Kiyon Gaines
               Laura Tisserand and Jonathan Porretta
Three Fates:   Chelsea Adomaitis, Elle Macy, Sarah Pasch
Total number of dancers
21
Other program information
Conductor: Emil de Cou
Assistant to the Choreographer: Kiyon Gaines
 
Waiting at the Station is a short narrative ballet set to a collection of compositions – both old and new – by R&B artist Allen Toussaint. Scenic and costume designs by Santo Loquasto set the scene in 1940s New Orleans. 
The story follows one man as he attempts to connect with his son and pass on his steps before he must surrender to the three gilded Fates that seek him out. The ensemble dances upstage for much of the work. They are a living frieze, providing background rhythm and dramatic tableau as two couples gambol, waltz, spar and swing through a sampling of society's many small conflicts. After the Father dances his goodbyes and recedes upstage with the three Fates, his Son leads the jazz funeral procession – a celebration of both life and death through music and dance. An epilogue follows, wherein the Father returns briefly to tidy a few loose ends and conduct the finale before boarding his last train.
Apart from her own, Tharp has developed long working relationships with three dance companies over the course of her career; Pacific Northwest Ballet is one of these. After seven years of repertory and two prior commissions, artistic director Peter Boal approached Tharp to create a third piece for the company. Waiting at the Station anchored an All-Tharp program that included Nine Sinatra Songs and the Seattle premiere of Brief Fling.
Full music program
Music by Allen Toussaint
1. Let's
2. Bright Mississippi
3. Dolores' Boyfriend
4. Mother-in-Law
5. Don't Go To Sleep
6. Fas-Fess
7. I Miss You, Baby
8. The Mardi Gras Stomp
9. Waiting at the Station