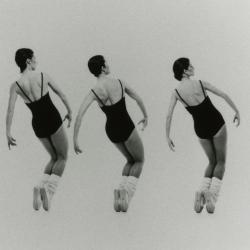 Premiere location place
Dayton, Ohio
Total number of dancers
6
The title for Uncle Edgar Dyed His Hair Red is taken from the short composition sent to Tharp by California composer Dick Sebouh. The dance couples sharp, slicing gestures with slow, sustained poses.
After this piece was completed, the company was invited to Richard Avedon's photography studio. The resulting photos of Uncle Edgar are among the strongest images Avedon shot over his 30-year friendship with Tharp. His photos capture the nearly impossible positions and clean lines of the choreography. Avedon's contribution to and support of Tharp and her work are clearly evidenced by these photographs, which, like all the photos he took of the company, were given to her free of charge.
Video Description
Company dancers in studio rehearsal.
Full music program
Uncle Edgar Died His Hair Red
Composed by Dick Sebouh
Music details
Music track
webmusic-uncleedgar.mp3
Brahms Paganini - Uncle Edgar - The Fugue - Deuce Coupe III | Twyla Tharp Dance
Brahms Paganini - Uncle Edgar (premiere) - The Fugue - Ocean's Motion | Twyla Tharp Dance