Music details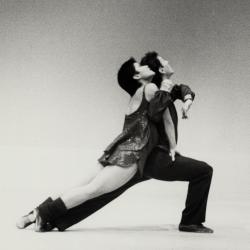 Premiere location place
Highland Park, IL
Dance sections
I. Allegro
II. Presto
III. Andante
IV. Adagio (Pas de Deux)
V. Allegro Moderato
Dancers
Christine Uchida and William Whitener 
with
Shelley Freydont, Mary Ann Kellogg, Sara Rudner
Richard Colton, Anthony Ferro, John Malashock
Total number of dancers
8
Other program information
From the original program: "This dance was made in North Andover, MA during the Spring of 1980 and is dedicated to Gerald J. Gross."
No longer a group of purely modern dancers, Tharp's company was comprised of dancers with a pronounced blend of styles and experience. Third Suite, a chamber ballet, marks a shift in the variety of dances created for them.
A long pas de deux for the principal couple would later be excerpted for the television special Confessions Of A Cornermaker.
Videos
Video Description
Company dancers in performance.
Full music program
Suite No. 3 in D major, BWV 1068
Composed by Johann Sebastian Bach - 1725
1. Ouverture
2. Air
3. Gavotte
4. Bouree
5. Gigue
Music details
Eight Jelly Rolls - Third Suite - Short Stories - Baker's Dozen | Twyla Tharp Dance
Baker's Dozen - The Fugue - Eight Jelly Rolls - Third Suite | Twyla Tharp Dnace
Théâtre des Champs Elysées
Ocean's Motion - Third Suite (premiere) - Baker's Dozen | Twyla Tharp Dnace
Murray Theater at Ravinia