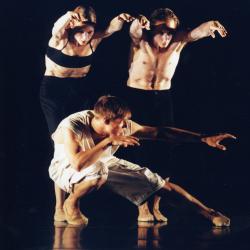 Premiere location place
Durham, NC
Total number of dancers
6
Other program information
Dedicated to the memory of Peggy Evarts Knaack.
Stage Manager:  Paul Bartlett
Company Manager:  Diane Daubert
Assistant to Donald Knaack:  Frank Knaack
Assistant to Scott Zielinski:  Juliet Chia
Assistant to Twyla Tharp:  Laila Sales
From the original program: "The Twyla Tharp Dance Foundation thanks Jeff & Patsy Tarr, Charles & Stephanie Reinhart, Santo Loquasto, David Kahne, Scott Zielinski, Burr & Burton Academy, Mark Springer/Quad Recording Studios NYC.
Ashley Tuttle appearing courtesy of American Ballet Theatre, Andrew Asnes and Francie Huber appearing courtesy of the Paul Taylor Dance Company."
Tharp re-formed a company after completing work on two large ballets, The Beethoven Seventh and The Brahms-Haydn Variations. One of the first works created for this group was Surfer At The River Styx.
The dance references elements of Euripides' play The Bacchae, wherein the god Dionysus challenges the hubris of King Pentheus, a mortal. The two lead men, backed by a chorus of four dancers, compete in escalating displays of virtuosity. Bright footlights cast the men's enormous shadows on the back wall as they outdo one another. 
When the king is bested by the god, order is restored and the two men are reunified with the chorus. In a long, sustained lift, a woman is elevated in a stream of light high above the stage, a final image of transcendence. 
Videos
Video Description
Company dancers during dress rehearsal.
Full music program
Original Music by Donald Knaack
Coda Composer:  David Kahne
Sound Design and Production:  David Kahne
Push Comes To Shove - Surfer At The River Styx - Nine Sinatra Songs | Washington Ballet
The Kennedy Center for the Performing Arts
Surfer At The River Styx | Company C Contemporary Ballet
Lesher Center for the Arts
Surfer At The River Styx | Company C Contemporary Ballet
Palace of Fine Arts Theatre
Surfer At The River Styx | Company C Contemporary Ballet
Lesher Center for the Arts
Surfer At The River Styx | Company C Contemporary Ballet
Palace of Fine Arts Theatre
Surfer At The River Styx | Company C Contemporary Ballet
Spreckels Performing Arts Center
Junk Duet - The Fugue - Westerly Round - Surfer At The River Styx |Twyla Tharp Dance
Junk Duet - The Fugue - Westerly Round - Surfer At The River Styx |Twyla Tharp Dance
Junk Duet - The Fugue - Westerly Round - Surfer At The River Styx |Twyla Tharp Dance
Westerly Round - Even the King - Surfer At The River Styx | Twyla Tharp Dance
Duke University, Page Auditorium
Junk Duet - The Fugue - Westerly Round - Surfer At The River Styx |Twyla Tharp Dance
Jacob's Pillow Dance Festival
Westerly Round - Even the King - Surfer At The River Styx | Twyla Tharp Dance
James W. Miller Auditorium
Westerly Round - Even the King - Surfer At The River Styx | Twyla Tharp Dance
Westerly Round - Even the King - Surfer At The River Styx | Twyla Tharp Dance
Westerly Round - Even the King (premiere) - Surfer At The River Styx | Twyla Tharp Dance
Scottsdale Center for the Performing Arts
Mozart Clarinet Quintet K.581 - Surfer At The River Styx | Twyla Tharp Dance
Wexner Center for the Arts
Mozart Clarinet Quintet K.581 - Surfer At The River Styx | Twyla Tharp Dance
Mozart Clarinet Quintet K.581 - Surfer At The River Styx | Twyla Tharp Dance
Mozart Clarinet Quintet K.581 - Surfer At The River Styx | Twyla Tharp Dance
New Jersey Performing Arts Center
Mozart Clarinet Quintet K.581 - Surfer At The River Styx | Twyla Tharp Dance
Kennedy Center for the Performing Arts
Mozart Clarinet Quintet K.581 (premiere) - Surfer At The River Styx (premiere) | Twyla Tharp Dance
Duke University, Page Auditorium