Music details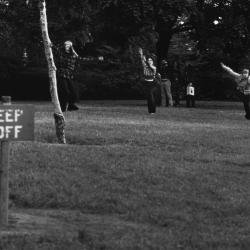 Premiere location venue
Fort Tryon Park, Battery Park and City Hall
Premiere location place
New York, NY
Dance sections
I. Sunrise: Fort Tryon Park 
Tharp, Rudner,Wright
II. Midday March: Battery Park 
Tharp, Rudner,Wright
+14 dancers
III. Evening Raga: City Hall
Tharp, Rudner, Wright
Dancers
Sara Rudner, Twyla Tharp, Rose Marie Wright 
plus 14 unknown dancers. 
Other program information
Sunrise/Noon/Sundown was a day-long event and performed only once in its entirety. Starting at 5 a.m., three dancers performed to a recording of Giuseppi Torelli's "Concerto in D minor" in Fort Tryon Park in Harlem.  At noon, the trio, a forty-piece Brooklyn high school marching band and fourteen student dancers, convened at Battery Park in downtown Manhattan to perform a series of drills. The nighttime event took place in the City Council Chamber at City Hall. The intended accompaniment was to be rag music on a player piano alongside a group of sitar players. Due to a security issue, only the sitar players were allowed inside the building. The result was an evening of dances to ragas, not rags. 
"Sunrise" would later be performed independently as Torelli.
Full music program
Violin Concerto Opus 8 n. 7 in D Minor, For Solo Violin, String & Continuo
Composed by Guiseppe Torelli
Published by Unicorn Records - 1956
Music details