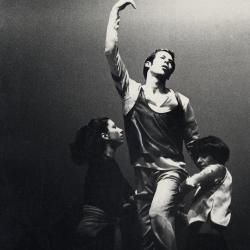 Dancers
Tom Rawe, Kenneth Rinker, Twyla Tharp, Rose Marie Wright
Other program information
In the inaugural episode of the PBS series "Dance in America," Sue's Leg is performed in its entirety by the original cast. Camera angles and movement were devised to amplify the choreography. Close-ups create an intimate look at a soloist; long crane shots augment scale. 
This recording captures four core company members at their peak of performance, preserving the dancers' investment in the tight ensemble work unique to this Tharp group.
Videos
Video Description
Tharp, Wright, Rawe and Rinker perform in the inaugural episode of "Dance In America."