Music details
Audio sample
I Can't Give You Anything But Love
By Fats Waller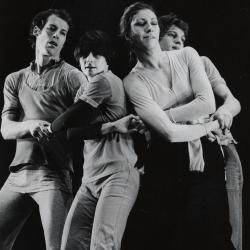 Premiere location place
St. Paul, MN
Dance sections
I. Please Take Me Out of Jail: Tharp, Wright, Rawe, Rinker
II. I Can't Give You Anything But Love: Tharp, Wright, Rawe, Rinker
III. I Can't Give You Anything But Love: Tharp
IV. Fat and Greasy: Wright, Rawe, Rinker
V. Tea For Two: Tharp, Wright, Rawe, Rinker
VI. Ain't Misbehavin': Tharp
VII. I'm Livin' in a Great Big Way: Tharp, Wright, Rawe, Rinker
VIII. In the Gloamin': Tharp, Wright, Rawe, Rinker
IX. I've Got My Fingers Crossed: Tharp, Wright, Rawe, Rinker
Dancers
Tom Rawe, Kenneth Rinker, Twyla Tharp, Rose Marie Wright
Total number of dancers
4
Other program information
From the original program: "Sue's Leg, to music by Fats Waller, was written in New York City from November 5 to December 20, 1974. It is dedicated to Suzanne Weil" 
Sue's Leg is named for and dedicated to Sue Weil, who sponsored the company's residencies at the St. Paul Civic Center in Minnesota. The dance was built during one of these residencies over the course of a month. All rehearsals were open to the public free of charge for the entire creation and rehearsal process.
Risky partnering and complex counterbalances enhance the theatrical tension in the movement vocabulary. The illusion of the dancers' unconcerned attitude is heightened by the technical difficulty in Tharp's choreography. 
On the night of the premiere, the dance was performed twice: once to open the show and again to close it. The first performance was fully produced with lights and costumes, which are exact replicas of the dancers' own rehearsal clothes but in rich fabrics. The second performance was presented in the original rehearsal clothes under work lights. Presenting the work twice served to lay bare the choreography, outside of the theatrical elements of lights and costume.
Videos
Video Description
Tharp, Wright, Rawe and Rinker perform at Town Hall in New York City.
Full music program
1. Please Take Me Out Of Jail
Written and Composed by Fats Waller
Published by Viktor Recordings – 1927
2. I Can't Give You Anything But Love
Written by Jimmy McHugh and Dorothy Fields – 1928
Recorded by Fats Waller for Viktor Recordings – 1938
3. Fat and Greasy
Written by Porter Grainger and Charlie Johnson
Recorded by Fats Waller for RCA – 1935
4. Tea for Two
Written by Vincent Youmans and Irving Caesar – 1925
Recorded by Fats Waller for HMV – 1935
5. Ain't Misbehavin'
Written by Andy Razaf, Fats Waller and Harry Brooks
Published by Viktor recordings – 1929
6. I'm Living in a Great Big Way
Written by Jimmy McHugh and Dorothy Fields
For the Musical "Hooray for Love" starring Fats Waller – 1935
7. In The Gloaming
Written by Annie Fortescue Harrison and Meta Orred – 1877
Recorded by Fats Waller for Viktor Recordings – 1938
8. I've Got My Fingers Crossed
Written by Ted Koehler and Jimmy McHugh
For the Film "King of Burlesque" starring Fats Waller – 1936
Music details
Audio sample
I Can't Give You Anything But Love
By Fats Waller
Sue's Leg | Aspen Santa Fe Ballet
Sue's Leg | Aspen Santa Fe Ballet
Sue's Leg | Hubbard Street Dance Chicago
Sues Leg - Baker's Dozen - Nine Sinatra Songs | Twyla Tharp Dance
Sues Leg - Telemann - Nine Sinatra Songs | Twyla Tharp Dance
University of Texas at Austin
Bad Smells (premiere) - Nine Sinatra Songs (premiere) - Sues Leg | Twyla Tharp Dance
Country Dances - Brahms Paganini - Sue's Leg | Twyla Tharp Dance
Saratoga Performing Arts Center
Sue's Leg - The Fugue - Three Dances From The Film ""Hair" - Chapters And Verses |Twyla Tharp Dance
Brooklyn Academy of Music
Chapters And Verses (premiere) - 1903 (premier) - The Fugue - Sue's Leg | Twyla Tharp Dance
Country Dances - The Fugue - Sue's Leg | Twyla Tharp Dance
Jacob's Pillow Dance Festival
Sue's Leg - Simon Medley - Country Dances - Cacklin' Hen | Twyla Tharp Dance
Country Dances - Cacklin' Hen - The One Hundreds - Sue's Leg | Twyla Tharp Dance
Brooklyn Academy of Music
Country Dances - From Hither and Yon - Sue's Leg | Twyla Tharp Dance
University of South Florida
Give and Take - The Rags Suite - Sue's Leg - Bach Duet | Twyla Tharp Dance
Give and Take - The Rags Suite - Bach Duet - Sue's Leg | Twyla Tharp Dance
Brooklyn Academy of Music
Sues Leg - Bach Duet - The Rags Suite - Ocean's Motion - The Fugue | Twyla Tharp Dance
San Antonio Ballet Society
Sues Leg - Bach Duet - The Rags Suite - Ocean's Motion - The Fugue | Twyla Tharp Dance
Sue's Leg - Bach Duet - The Rags Suite (premiere) - Ocean's Motion | Twyla Tharp Dance
Sue's Leg - The One Hundreds - Bach Duet - Ocean's Motion | Twyla Tharp Dance
American Dance Festival at Connecticut College
Sue's Leg - Double Cross - Bach Duet | Twyla Tharp Dance
Sue's Leg - The Double Cross | Twyla Tharp Dance
Sue's Leg (premiere) - The Double Cross (premiere) | Twyla Tharp Dance