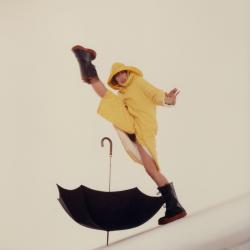 Premiere location place
New York, NY
Dance sections
Act I
"Fit as a Fiddle"...Don Lockwood and Cosmo Brown
"Beautiful Girl"...Don Lockwood and Fans
"I've Got a Feelin' You're Foolin'"...Kathy Selden and Coconut Grove Coquettes
"Make 'Em Laugh"...Cosmo Brown
"Hubbub"...Cosmo Brown and Studio Stage Hands
"You Are My Lucky Star"...Don Lockwood and Kathy Selden
"Moses Supposes" - Don Lockwood and Cosmo Brown
"Good Mornin'"...Don Lockwood, Kathy Selden and Cosmo Brown
"Singin' in the Rain"...Don Lockwood
Act II
"Wedding of the Painted Doll"...Selected Ensemble
"Rag Doll"...Selected Ensemble
"Temptation"...Selected Ensemble
"Takin' Miss Mary to the Ball"...Selected Ensemble
"Love is Where You Find It"...Ensemble
"Would You?"...Kathy Selden
"Broadway Rhythm"...Company
"Blue Prelude"...Company
"Would You? (Reprise)"...Kathy Selden
"You Are My Lucky Star"...Don Lockwood, Kathy Selden and Company
"Singin' in the Rain (Reprise)"...Company
Soloists
Roscoe Dexter.....Richard Fancy
Lina Lamont, Jeanette/Yvonne.....Faye Grant
Diction Coach.....Austin Colyer
Phoebe Dinsmore.....Jacque Dean
Ensemble, Lady of the Court.....Diane Duncan
Dora Bailey, Ensemble.....Melinda Gilb
Zelda Zanders, Ensemble.....Mary Ann Kellogg
Ensemble, Lady of the Court.....Alison Mann
Ensemble, Lady of the Court.....Barbara Moroz
Rod, Ensemble.....Robert Radford
R. F. Simpson.....Hansford Rowe
Sound Engineer, Ensemble, Man on Screen.....John Spalla
Ensemble, Lady-in-Waiting.....Cynthia Thole
Sid Phillips, Ticket Taker, Ensemble.....Martin Van Treuren
Ensemble
Ray Benson, John Carrafa, Richard Colton, Yvonne Dutton, Craig Frawley, Katie Glasner, Barbara Hoon, David-Michael Johnson, Raymond Kurshals, Kevin O'Day, Tom Rawe, Gene Sager, Amy Spencer, Shelley Washington, Laurie Williamson
Swings: David Askler, Cheri Butcher, Brad Morantz
Other program information
Awards
Tony Awards
Nominated:
   Best Book of a Musical: Betty Comden and Adolph Green
   Best Performance by a Leading Actor in a Musical: Don Correia
Theatre World Awards
Won:
   Faye Grant
Drama Desk Awards
Won:
   Outstanding Special Effects: Jauchem  Meeh Inc.
Nominated:
   Outstanding Featured Actress in a Musical: Faye Grant
   Outstanding Choreography: Gene kelly, Twyla Tharp, Stanley Donen
Whereas her previous Broadway productions were self-produced, Singin' In The Rain was Tharp's first commercial musical.
Betty Comden and Adolph Green, original screenwriters of the 1952 film, added five musical numbers for which Tharp created all-new choreography. Dance sequences by Gene Kelly and Stanley Donen from the film were kept intact for the stage version. A third of the cast were Tharp company members, including Mary Ann Kellogg who had a small speaking role as Zelda Zanders.
Videos
Video Description
Brief excerpts featuring Correia, Slutsker and D'Arcy.
Full music program
Music: Nacio Herb Brown
Lyrics: Arthur Freed
Music Arranged: Stanley Lebowsky
Musical Director: Robert Billig
Music Orchestration: Larry Wilcox
Additional Numbers: Stanley Lebowsky, Roger Edens, Al Bishop
Additional Lyrics: Betty Comden, Adolph Green, Edward Heyman, Gus Kahn, Gordom Jenkins
Additional Music: Michael Dansicker
Audio Consultant: T. Richard Fitzgerald
Sound System Designer: Peter J. Fitzgerald
Musical Supervisor: Stanley Lebowsky
Music Published by: CBS Songs
Music Contractor: Mel Rodnon
Associate Conductor: Michael Dansicker
Singin' In The Rain (premiere) | The Gershwin Theater