Music details
Audio sample
Jungleland
By Bruce Springsteen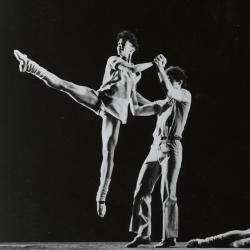 Premiere location place
Highland Park, IL
Dance sections
I. Supertramp, Lover Boy: Carrafa, Kellogg, Washington, Kurshals, Whitener, Glasner
II. Springsteen, Jungleland: Rawe, Way, Malashock, Rudner
Dancers
Katie Glasner, Mary Ann Kellogg, Sara Rudner, Shelley Washington, Jennifer Way
John Carrafa, Raymond Kurshals, John Malashock, Tom Rawe, William Whitener
Total number of dancers
10
Short Stories differs from Tharp's previous works to popular music in two distinct ways: the first being that the subject matter is much darker, at times even violent. The second is in the way Tharp folds the lyric text into the narrative of the dance. The dramatic scenes unfold in sequences of complex partnering and dance phrases layered with mimetic gestures.
The opening section presents three couples and the attractions and jealousies between them. The song ends as three "love 'em and leave 'em" men walk away from the woman who was once the object of their interest.
A second scenario of love and envy is presented in the next section. Tensions mount between two couples – one easy and lyrical, the other charged and edgy – until it comes to blows in a final slow-motion struggle.
Full music program
1. Lover Boy
Performed by Supertramp
Written by Rick Davies and Roger Hodgson
From the Album "Even In The Quietest Moments" – 1977
Released by A&M Records
2. Jungleland
Written and Performed by Bruce Springsteen
From The Album "Born To Run" – 1975
Released by Columbia Records
Music details
Audio sample
Jungleland
By Bruce Springsteen
Sorrow Floats - Short Stories - Baker's Dozen | Twyla Tharp Dance
Nine Sinatra Songs - Eight Jelly Rolls - Assorted Quartets - Short Stories | Twyla Tharp Dance
Eight Jelly Rolls - Assorted Quartets - Short Stories - Baker's Dozen | Twyla Tharp Dance
The Bix Pieces - Assorted Quartets - Short Stories - Baker's Dozen | Twyla Tharp Dance
Eight Jelly Rolls - Third Suite - Short Stories - Baker's Dozen | Twyla Tharp Dance
Brahms Paganini - Short Stories - The Fugue - Eight Jelly Rolls | Twyla Tharp Dance
Eight Jelly Rolls - Short Stories - Brahms Paganini | Twyla Tharp Dance
The Rags Suite - Short Stories (premiere) - The Fugue - Brahms Paganini | Twyla Tharp Dance
Murray Theater at Ravinia