Music details
Audio sample
Sonata in D Minor, K. 417 (L462)
Performed by Nikolai Demidenko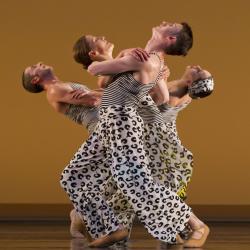 Premiere location place
Chicago, IL
Commissioner
Hubbard Street Dance Chicago
Total number of dancers
12
Other program information
Assitant to Ms. Tharp: Claire Bataille
Tharp selected seven sonatas and a fugue composed by Domenico Scarlatti for a new work commissioned by Hubbard Street Dance Chicago. The majority of Scarlatti's 555 sonatas were written in binary form – where the first phrase is introduced and repeated exactly, followed by a second phrase of similar length, which is also repeated verbatim.
Tharp's choreography reflects the binary form in various ways.  In the most simple example, two couples enter in canon as the first sonata begins. When the musical phrase repeats, the dancers repeat their entrance but one of the dancers has been recast.
The piece challenges the audience's memory - how much can they remember of the original passage and which variations can they spot? Each passage is varied differently when it is repeated. For example one repetition might mirror the original on the reverse side or another introduce a phrase as a solo and then multiply it into a quartet in its repeat. The possibilities for the variations are infinite.
Norma Kamali's costume design reinforces the patterns and repetitions in this work. The various graphic prints are shared and divided within a single dancer's costume and throughout the cast. As groups of dancers are formed and re-formed, the patterns are also matched and re-matched. 
Videos
Video Description
Members of Hubbard Street Dance Chicago during dress rehearsal.
Full music program
The score for Scarlatti is taken from the album "Domenico Scarlatti, 19 Sonatas"
Recorded by Nikolai Demidenko
1. Sonata in D major, K.298 (Ls6)
2. Sonata in D Major, K.299 (L210) 
3. Sonata in F Major, K.518 (L116) 
4. Sonata in F Major, K.519 (L475) 
5. Sonata in B Minor, K.27 (L449)
6. Sonata in D Major, K.400 (L213)
7. Sonata in D Minor, K. 417 (L462) 
8. Sonata in D Major, K.484 (L419)  
Released by SanCtuS Recordings - 2000
Music details
Audio sample
Sonata in D Minor, K. 417 (L462)
Performed by Nikolai Demidenko
Scarlatti | Hubbard Street Dance Chicago
Harris Theater at Millennium Park
Scarlatti | Hubbard Street Dance Chicago
Scarlatti (premiere) | Hubbard Street Dance Chicago
Harris Theater at Millennium Park