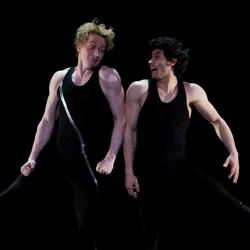 Premiere location place
New York, NY
Live music by
The American Ballet Theatre Orchestra
Dance sections
Overture
I.  FROLIC
Rogue, Rabbit, Ensemble, Quartet
II.  RAG
Rag Couple, Quartet, Ensemble, Rogue
III.  LYRIC
Rabbit, Quartet & Ensemble Ladies, Rogue
IV.  GAMELAN
Gamelan Couple, Quartet, Ensemble, Rabbit, Rogue
V.  FINALE
Rabbit, Rogue, Rag Couple, Gamelan Couple, Quartet, Ensemble 
Ensemble
Kristi Boone, Marian Butler, Misty Copeland, Simone Messmer, Jacquelyn Reyes, Sarawanee Tanatanit
Jeffery Golladay, Alexandre Hammoudi, Blaine Hoven, Patrick Ogle, Isaac Stappas, Cory Stearns
Total number of dancers
22
Other program information
Rabbit and Rogue is Tharp's fifteenth commission for American Ballet Theatre. The ballet features a mischievous pair of principal men in a disconnected, virtual world. They encounter two couples and their supporting ensembles – one tumultuous, one harmonious. 
With the advancements in consumer video technology, Tharp was able to utilize video during the rehearsal of Rabbit and Rogue more extensively than with previous projects. By editing and collaging rehearsal footage, Tharp was able to approximate the timing and positions on stage in order to maximize the performers' limited rehearsal time.
Video Description
Members of American Ballet Theatre in excerpts from Tharp's rehearsal video montage and dress rehearsal. 
Full music program
Rabbit and Rogue
Composed by: Danny Elfman
I: Frolic
II: Rag
III: Lyric
IV Gamelan
V: Finale
Conducted by: Ormsby Wilkins
Music details
Music track
webmusic-rabbit_and_rogue.mp3
Audio sample
"Frolic"
From Rabbit and Rogue
Rabbit and Rogue | American Ballet Theatre
Segerstrom Center for the Arts
Rabbit and Rogue (premiere) | American Ballet Theatre