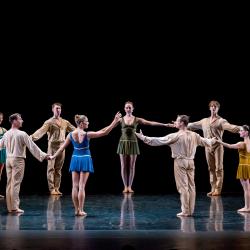 Premiere location place
Dallas, TX
Commissioner
Lead sponsorship for Preludes and Fugues generously provided by Tam O'Shaughnessy, in memory of Sally Ride.

This work was commissioned by The Joyce Theater, New York, with funds from the Estate of John L. Klebanoff, and The John F. Kennedy Center for the Performing Arts, Washington D.C. (lead commissioners); Auditorium Theatre of Roosevelt University (made possible by Phillip and Marsha Dowd) & Ravinia Festival Association, Chicago; TITAS Presents in association with AT&T Performing Arts Center, Dallas; and The Wallis Annenberg Center for the Performing Arts, Beverly Hills. This work was also made possible by the New England Foundation for the Arts National Dance Project, with lead funding from the Doris Duke Charitable Foundation and The Andrew W. Mellon Foundation, with additional support from the National Endowment for the Arts.
Dancers
John Selya, Rika Okamoto, Matthew Dibble, Ron Todorowski, Daniel Baker, Amy Ruggiero, Ramona Kelley, Nicholas Coppula, Eva Trapp, Savannah Lowery, Reed Tankersley, Kaitlyn Gilliland, Eric Otto (Understudy).
Simply put, PRELUDES AND FUGUES is the world as it ought to be, YOWZIE as it is. The FANFARES celebrate both."
-Twyla Tharp, 2015
Videos
Video Description
"Preludes and Fugues" © Twyla Tharp.
Full music program
Music: "The Well-Tempered Clavier" Selections from Books I and II by Johann Sebastian Bach, recorded by David Korevaar and Angela Hewitt.
1. Book 1: Prelude No. 1 in C Major
2. Book 1: Prelude No. 2 in C Minor
3. Book 1: Fugue No. 3 in C-Sharp Major
4. Book 1: Fugue No. 4 in C-Sharp Minor
5. Book 1: Prelude No. 5 in D Major
6. Book 1: Fugue No. 5 in D Major
7. Book 1: Prelude No. 6 in D Minor
8. Book 1: Prelude No. 10 in E Minor
9. Book 1: Fugue No. 10 in E Minor
10. Book 1: Fugue No. 11 in F Major
11. Book 1: Prelude No. 12 in F Minor
12. Book 1: Fugue No. 14 in F-Sharp Minor
13. Book 1: Prelude No. 15 in G Major
14. Book 1: Fugue No. 15 in G Major
15. Book 1: Prelude No. 16 in G Minor
16. Book 1: Prelude No. 17 in A-Flat Major
17. Book 1: Fugue No. 17 in A-Flat Major
18. Book 1: Prelude No. 21 in B-Flat Major
19. Book 1: Prelude No. 22 in B-Flat Minor
20. Book 1: Prelude No. 23 in B Major
21. Book 2: Fugue No. 24 in B Minor
22. Book 1: Prelude No. 1 in C Major
Preludes And Fugues - Nine Sinatra Songs | Twyla Tharp Dance (Tour)
Tennessee Williams Theater
50th Tour - Preludes And Fugues - Yowzie | Twyla Tharp Dance
50th Tour - Preludes And Fugues - Yowzie | Twyla Tharp Dance
Kennedy Center for the Performing Arts
50th Tour - Preludes And Fugues - Yowzie | Twyla Tharp Dance
50th Tour - Preludes And Fugues - Yowzie | Twyla Tharp Dance
Wharton Center at Michigan State University
50th Tour - Preludes And Fugues - Yowzie | Twyla Tharp Dance
Indiana University, Bloomington
50th Tour - Preludes And Fugues - Yowzie | Twyla Tharp Dance
50th Tour - Preludes And Fugues - Yowzie | Twyla Tharp Dance
University of Texas, Austin
50th Tour - Preludes And Fugues - Yowzie | Twyla Tharp Dance
University of California, Berkeley
50th Tour - Preludes And Fugues - Yowzie | Twyla Tharp Dance
50th Tour - Preludes And Fugues - Yowzie | Twyla Tharp Dance
50th Tour - Preludes And Fugues - Yowzie | Twyla Tharp Dance
Mondavi Center for the Performing Arts at University of California, Davis
50th Tour - Preludes And Fugues - Yowzie | Twyla Tharp Dance
Wallis Annenberg Center for the Performing Arts
50th Tour - Preludes And Fugues - Yowzie | Twyla Tharp Dance
University of Colorado, Boulder
50th Tour - Preludes And Fugues - Yowzie | Twyla Tharp Dance
Newman Center at University of Denver
50th Tour - Preludes And Fugues - Yowzie | Twyla Tharp Dance
AT&T Performing Arts Center