Music details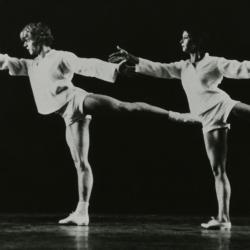 Premiere location place
New York, NY
Dance sections
I. Something Stupid
II. That's Life
III. One More for the Road
Total number of dancers
2
Other program information
This piece premiered during the ABT Summer Gala Evening. 
From the original program:  "Special thanks to Rose Marie Wright, Tom Rawe. Jennifer Way, Shelley Washington, Chrsitine Uchida. Recordings used courtesy of Frank Sinatra and Bristol Productions, Inc. Special Thanks to Greenwood Music Co., B.N.P. Music Publishing Inc. and Harwin Music Co. for the use of Frank Sinatra songs."
American Ballet Theatre commissioned Once More, Frank for the 1976 Spring Gala. Rehearsals were recorded for the PBS special Making Television Dance.
Baryshnikov casually crosses the stage to shake Tharp's hand before they begin the loose but quick unison movement of the opening section. The final section, "One For My Baby," was, as Tharp explains in the television special, "made for the void between us." Once More, Frank marks the beginning of a series of works by Tharp to the music of Frank Sinatra.
Videos
Video Description
Tharp and Baryshnikov rehearse in the American Ballet Theatre studios.
Full music program
1. Somethin' Stupid
Written by C. Carson Parks - 1966
Recorded by Frank & Nancy Sinatra
From the Album "The World We Knew" – 1967
Reprise Records
2. That's Life
Written by Dean Kay and Kelly Gordon for Frank Sinatra
From the Album "That's Life" – 1966
Reprise Records
3. One More For the Road
Written by Harold Arlen and Johnny Mercer
For the Musical "The Sky's the Limit" – 1943
Recorded by Frank Sinatra – 1947
Columbia Records
Music details