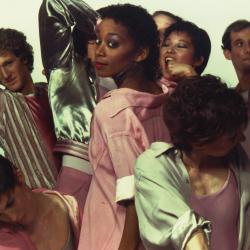 Premiere location place
Spoleto, Italy
Dance sections
I. Too Pooped to Pop: Way
II. Memphis: Way, Wright
III. Deep Feelin': Way, Wright, Nilson
IV. School Days: Way, Wright, Rinker, Rawe
V. Nadine: Way, Wright, Rinker, Rawe, Nilson
VI. Havana Moon: Wright, Rinker, Rawe, Way, Nilson
VII. Almost Grown: Way, Wright, Rinker, Rawe, Nilson
Total number of dancers
5
Other program information
This piece premiered during the Spoleto Festival XVIII, 1975. 
Tharp's style of technically demanding yet nonchalant choreography is expanded in Ocean's Motion. The dance depicts a day in the life of a group of Fonzie-era teenagers. The dancers, dressed in letterman jackets, smack bubblegum as they whiz through the exacting steps with cool, laid-back precision. The pop-culture veneer and the lighthearted characterizations make the work entertaining and approachable while the choreography tests the dancers' speed and accuracy.
Videos
Video Description
Company dancers perform in the 1982 revival.
Full music program
1. Too Pooped To Pop
Written and Performed by Chuck Berry
From the Album "Rockin' at the Hops – 1960
Published by Chess Records
2. Memphis (also known as "Memphis, Tennessee)
Written and Performed by Chuck Berry
Released by Chess Records as a Single – 1959
3. Deep Feeling
Written and Performed by Chuck Berry
From the Album "After School Session" – 1957
Published by Chess records
4. School Days
Written and Performed by Chuck Berry
From the Album "After School Session" – 1957
Published by Chess records
5. Nadine
Written and Performed by Chuck Berry
Released as a Single by Chess Records – 1963
6. Havana Moon
Written and Performed by Chuck Berry
From the Album "After School Session" – 1957
Published by Chess Records
7. Almost Grown
Written and Performed by Chuck Berry
Released as a Single by Chess Records – 1959
Ocean's Motion - The Little Ballet - Grand Pas: Rhythm of the Saints - Nine Sinatra Songs | Twyla Tharp and Dancers
Octet - Grand Pas: Rhythm of the Saints - Men's Piece - Ocean's Motion | Twyla Tharp Dance
Brahms Paganini - Uncle Edgar (premiere) - The Fugue - Ocean's Motion | Twyla Tharp Dance
Ocean's Motion - Third Suite (premiere) - Baker's Dozen | Twyla Tharp Dnace
Murray Theater at Ravinia
The Rags Suite - Assorted Quartets (premiere) - The Fugue - Oceans Motion | Twyla Tharp Dance
Saratoga Performing Arts Center
Oceans Motion - Brahms Paganini - Baker's Dozen | Twyla Tharp Dance
Ocean's Motion - Brahms Paganini (premiere) - Deuce Coupe III (premiere) | Twyla Tharp Dance
Sues Leg - Bach Duet - The Rags Suite - Ocean's Motion - The Fugue | Twyla Tharp Dance
San Antonio Ballet Society
Sues Leg - Bach Duet - The Rags Suite - Ocean's Motion - The Fugue | Twyla Tharp Dance
Sue's Leg - Bach Duet - The Rags Suite (premiere) - Ocean's Motion | Twyla Tharp Dance
Sue's Leg - The One Hundreds - Bach Duet - Ocean's Motion | Twyla Tharp Dance
American Dance Festival at Connecticut College
Sue's Leg - The One Hundreds - Bach Duet - Ocean's Motion (premiere} | Twyla Tharp Dance
Sue's Leg - The One Hundreds - Bach Duet - Ocean's Motion (premiere} | Twyla Tharp Dance