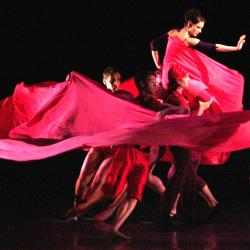 Premiere location place
Miami, FL
Total number of dancers
18
Other program information
Project Coordination by: Donna Lenchuk
On-stage band music direction by: Tim Devine
From original program:  "Nightspot, a collaboration between two of the most celebrated and sought-after artists of our time, is Miami City Ballet's first major commission. Ms. Tharp has created her ballet on eighteen of the company's dancers and Mr. Costello's composition, which features new music intertwined with motifs from existing songs, is performed by an on-stage dance band as well as a thirty-two piece orchestra in the pit. The costumes are designed by the leading fashion designer, Isaac Mizrahi."
Edward Villella, founder and artistic director of Miami City Ballet, approached Tharp to choreograph the company's first major commission. Drawing from the cultural diversity and vibrant nightlife of Miami, Nightspot features three principal couples in a blend of folk and Latin dances, pointe work and hip-hop. Four soloists and eight ensemble dancers complete the cast. 
Video Description
Miami City Ballet dancers during dress reheasal.
Full music program
Nightspot
Composed by Elvis Costello
Principal Conductor: Juan Francisco La Manna
Dance Band: 
Musical Director/Keyboards: Tim Devine
Drums: Lee Levin
Guitars/Mandolin: Dan Warner
Electric and Upright Bass: Chuck Bergeron
Saxes/Flute/Accordian: Pete Brewer
Saxes: Dave Fernandez
Trumpet: Jason Carder
Trombone: Dante Luciani
Percussion: Gary Mayone
Orchestra:
Concertmaster: Bogumila Zgraja
Assistant Concertmaster: Laszlo Pap
Violin: Claudia Cagnassone, Gennady Aronin, Georgetta Miller, Tony Seepersad, Roslind Lang, Gerry Miller, Sha Zhang, Galina Aronin, Raisa Ilyutovich, Vivian Gonzalez, Stephanie Sibgman
Viola: Renata Guitart, Galina Dennison, Shao-Chin Chien, Michael Davis
Cello: Luisa Bustamante, Angela Maleh, Konstantin Litvinenko, Arthur Abney
Contrabass: Janet Clippard, Ariadna Barbe-Villa
Oboe/English Horn: Dione Chandler
Flute/Piccolo: Sara Stout
Clarinet: Isabel Mora
Bassoon: Geoff Hale
Horn: Jerry Peel
Trumpet: Craig Morris
Trombones: John Kricker, Joel Keene
Harp: Stacey Berkley
Celeste: Francisco Rennó
Timpani: Mark Schubert
Percussion: Mikhail Michaeslon
Musician Contractor: Tim Devine
Music details
Music track
webmusic-nightspot.mp3
Audio sample
Nightspot
Composed by Elvis Costello
Nightspot | Miami City Ballet
Broward Center for the Performing Arts
Nightspot | Miami City Ballet
Kravis Center for the Performing Arts
Nightspot (premiere) | Miami City Ballet
Adrienne Arsht Center for the Performing Arts