Music details
Audio sample
Divertimento in F Major, K. 13
Composed by WA Mozart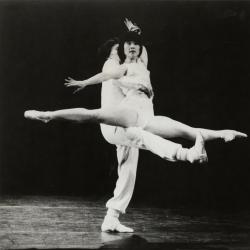 Premiere location place
Brooklyn, NY
Live music by
St. Paul Chamber Ensemble
Dance sections
I. Duet: Speed
   Way, Kurshals
II. Trio: Air
   Wright, Uchida, Willaims
III. Quartet: Fire
   Washington, Uchida, Kurshals, Colton
IV. Duet: Water
   Washington, Colton
V. Quartet: Earth
   Wright, Rawe, Way, Kurshals
Total number of dancers
8
Other program information
From the original program: "Shoes for Mud by Capezio and Frederick Freed, Ltd. Adidas sport shoes supplied courtesy of Libco."
The fast and frenetic opening section of Mud gives way to a female trio that floats downstage en pointe. In "Air," classical vocabulary is interspersed with off-center suspensions lending lightness to the movement and attitude. A sharp, slicing quartet in silence follows. The syncopated movement gives the feeling that everything is happening in fast forward. A lyrical solo segues into the final section with the entrance of a quartet wearing sneakers. "Earth" integrates seemingly incompatible actions - the furious gestures, falls and catches and fluid adagio - into a complex pool of movement.
The spectrum of movement and divergent footwear explored here serve as an early prototype for In The Upper Room.
Videos
Video Description
An excerpt from Section III, performed by Uchida, Washington, Colton and Kurshals.
Full music program
1. Six Country Dances 
Composed by WA Mozart - 1784
2. Divertimento in F Major, K. 13
Composed by WA Mozart - 1772
Musicians of the St. Paul Chamber Ensemble: 
Violins: Regis Iandiorio, Ira Lieberman
Viola: Michael Bloom
Cello: Jeanne LeBlanc
Music details
Audio sample
Divertimento in F Major, K. 13
Composed by WA Mozart
Mud - The Fugue - Eight Jelly Rolls | Twyla Tharp Dance
American Dance Festival at Connecticut College
The Hodge Podge - Mud - The Bix Pieces | Twyla Tharp Dance
Mud - The Fugue - The Bix Pieces | Twyla Tharp Dance
Brooklyn Academy of Music
The Hodge Podge (premiere) - Simon Medley (premiere) - Mud (premiere) - The Bix Pieces | Twyla Tharp Dance
Brooklyn Academy of Music