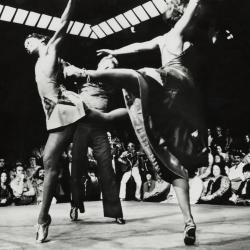 Other program information
"The Television Laboratory at WNET/13 is supported by grants from the Rockefeller Foundation and NY State Council of the Arts. Participation of the TTDF Inc. was made possible by a special grant from the Andrew W. Mellon Foundation. This program was made possible by grants from the Corporation for Public Broadcasting and the NEA."
Associate Director and Editor: Aviva Slesin
With Special Thanks to: Mikhail Baryshnikov
Coordinating Producer: Roger Johsnon, Jr.
Assistant Director: Judi Elterman
Stage manager: Henry Neimark
Documentary Video Taped by: Joel Gold
Video Tape Editor for Dance Sequences: Girish Bhargava
Documentary sound and additional shooting: Bill Market
Supervising Engineers: Tom Farmer and Chris Jorgenson
Production Managers: Barbara Greenberg and Harriet Abraham
Production Aide: Chris Jara
Post Production
Assistant: Iris Cahn
Videotape Editor: Bob Pounds
Sound Editor: Vincent Stevenson
Sound Mix: Lee Dichter
Production Assistants: Ruth Bonomo and Jan Cornell
For Television Laboratory
Coordinating Producer: Carol Brandenburg
Supervising Engineer: John J. Godfrey
Production Secretary: Stephanie Wein
Associate Producer: Rhoda Grauer
Executive Producer: David Loxton
Administrative Assistant: Bernice Rubin
Awards
Chicago National Film Award
Making Television Dance gave Tharp and Don Mischer free reign to explore some the technical possibilities that make dance uniquely suited to the screen. "I wanted to make something that was at least as much television as it was dance," Tharp states in a voiceover. Whereas Tharp had utilized special effects in previous television projects, Making Television Dance uses early electronic and computer effects to alter and enhance the dancing.
The production features Country Dances and Once More, Frank. Both works were created for this special, which took a year to edit. In the meantime, the two pieces were performed live a number of times before the air date. The program also includes Tharp in a solo excerpted from Happily Ever After.
Washington, Rawe and Way perform Country Dances during the taping of Making Television Dance.

Joel Gold, Tharp and Mischer during production.

<p>©Twyla Tharp</p>

Uchida and Washington with production crew on set.

<p>©Twyla Tharp</p>

Tharp performs an exerpt from Happily Ever After.

<p>©Herbert Migdoll</p>

Baryshnikov and Tharp rehearse Once More, Frank for the documentary portion of Making Television Dance.

<p>© Tom Rawe</p>

Tharp and Baryshnikov rehearse Once More, Frank.

<p>© Herbert Migdoll</p>
Full music program
Country Dances:
All music performed by Snuffy Jenkins, Pappy Sherril and The Hired Hands
1. Texas Quickstep
By The Hired Hands
2. Fifty Year Ago Waltz
By The Hired Hands
3. Rat Cheese Under the Hill
By The Kessinger Brothers
4. Cacklin' Hen and Rooster Too
By The Skillet Lickers
5. Took My Gal A-Walkin'
By Charlie Poole and The North Carolina Ramblers
6. Fresno Blues
By Johnny and Albert Crockett
7. Alabama Jubilee
Written by Jack Yellen and George L. Cobb – 1915
Plus:
Billy In The Low Ground
Traditional
Once More, Frank:
All music performed by Frank Sinatra
1. Somethin' Stupid
Written by C. Carson Parks - 1966
Recorded by Frank & Nancy Sinatra
From the Album "The World We Knew" – 1967
Reprise Records
2. That's Life
Written by Dean Kay and Kelly Gordon for Frank Sinatra
From the Album "That's Life" – 1966
Reprise Records
3. One More For the Road
Written by Harold Arlen and Johnny Mercer
For the Musical "The Sky's the Limit" – 1943
Recorded by Frank Sinatra – 1947
Columbia Records