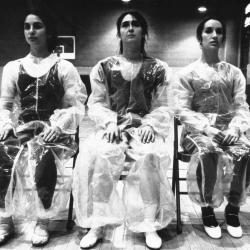 Premiere location place
New York, NY
Other program information
Premiered at the Dance Uptown Festival at Barnard College.
Tharp's nod to German Expressionism, Jam is performed almost entirely in darkness. Flashlights, placed at the front of the stage, illuminate the dancers' clear plastic suits worn over lavender leotards. The costumes are a progression of the cellophane canopy used in Unprocessed.  The title refers to "being in a jam", both physically being stuck and emotionally in trouble. 
Jam, and the previous work, One, Two Three were often performed back-to-back, forming an "opposition pair". Whereas Jam is chaotic and dark, with its movement hurled far from the dancer's center (Dionysian), One, Two, Three is bright and ordered, serenely Apollonian, in black and white costumes.
Dickinson, Rudner, Tharp and Tupling in rehearsal at the Judson Gym.

<p>©Robert Propper</p>

Tharp, Rudner and Jenkins in Twelve Foot Change, an early version of Yancey Dance.

<p>©Robert Barry</p>
Disperse - Yancey Dance - Jam - One,Two, Three - Three Page Sonata For Four (premiere) | Twyla Tharp and Dancers
One,Two,Three - Yancey Dance (premiere) - Jam - Cede Blue Lake | Twyla Tharp and Dancers
Montreal Expo '67 - Pavillon De La Jeunesse
Cede Blue Lake - Twelve Foot Change - Jam - One Two Three - Re-Moves | Twyla Tharp and Dancers
American Center for Students and Artists
Re-Moves - Jam | Twyla Tharp and Dancers
Jam (premiere) | Twyla Tharp and Dancers
Minor Latham Playhouse - Barnard College