Music details
Audio sample
Hunted Animals / Men's Line
By David Van Tieghem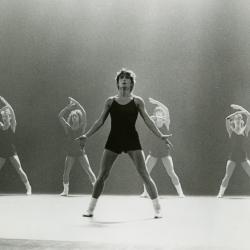 Premiere location place
Austin, TX
Dance sections
Part I:
Freydont, Glasner, Hoon, Kellogg, Rudner, Spencer, Washington, Way
Carrafa, Colton, Kurshals, Malashock, Radford, Rawe, Whitener, Young
Intermission
Part II:
Tharp
with Carrafa, Colton, Kurshals, Malashock, Radford, Rawe, Whitener, Young
Dancers
Twyla Tharp, Shelley Freydont, Katie Glasner, Barbara Hoon, Mary Ann Kellogg, Sara Rudner, Amy Spencer, Shelley Washington, Jennifer Way

John Carrafa, Richard Colton, Raymond Kurshals, John Malashock, Robert Radford, Tom Rawe, William Whitener, Keith Young
Total number of dancers
17
Made for the 1984 Summer Olympics in Los Angeles, Fait Accompli is a showcase of strength and athletic endurance. The inspiration for this piece – both the movement quality and the insistent difficulty - came from Tharp's work with legendary boxing trainer Teddy Atlas.
The movement is relentless, requiring tenacity and a strong technical foundation. There are no easy parts – the same level of commitment is asked of every dancer in the cast. Fait Accompli points the way to In The Upper Room, which shares this driving spirit. Jennifer Tipton's moving light grid functions as a deus ex machine, disguising the dancers' entrances and exits through the upstage curtain.
Videos
Video Description
Tharp and company dancers in performance.
Full music program
These Things Happen (Album)
Composed by David Van Tieghem for Fait Accompli
Recorded by Warner Bros. Records Inc. - 1984
1. Number One/Hunted Animals
2. Men's Line/The Women
3. Remote Viewing
4. Beyond Knowledge and Power
5. Untitled/These Things Happen
6. Boxing
7. The Skyway/Scavengers/Two Worlds
8. Dark Passage/Phantom Power/Fait Accompli
Music details
Audio sample
Hunted Animals / Men's Line
By David Van Tieghem
I Remember Clifford - Fait Accompli | Hubbard Street Dance Chicago
Baker's Dozen - Fait Accompli - Nine Sinatra Songs | Hubbard Street Dance Chicago
Baker's Dozen - Fait Accompli (premiere) | Twyla Tharp Dance
University of Texas Bass Concert Hall