Music details
Audio sample
Bulgur A La Klezmatics
Performed by The Klezmatics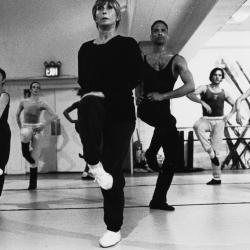 Premiere location place
New York, NY
Dancers
Christine Dakin, Rika Okamoto, Terese Capucilli
Handmaidens: Joyce Herring, Myra Woodruff
Camille Brown, Floyd Flynn, Peter London, Theresa Maldonado, Miki Orihara
Total number of dancers
10
Other program information
Assistant to Ms. Tharp: Jamie Bishton
Two years after Martha Graham's death, Tharp created a new work for Graham's company – the first choreographer ever to do so. "I thought of [her] early female companies and of my female companies," Tharp recalls. "I thought of Graham as a female artist and how indebted I was to her for all that she has done in that area." Demeter and Persephone was created as a gift of thanks for her influence and to revisit the technique Tharp studied under Graham in 1962.
Tharp combines Greek mythology and Yiddish theater in this work about mothers, daughters and the matrilineal tradition of modern dance. Christine Dakin, who joined the company in 1976, danced the role of Demeter, while Rika Okamoto danced the role of her daughter Persephone. The final dancer to join the company before Graham's passing, Okamoto was the last of Graham's direct lineage.
Videos
Video Description
Dancers of the Martha Graham Dance Company in studio and dress rehearsal.
Full music program
Bulgur A La Klezmatics
Performed by The Klezmatics
From the album "Rhythm and Jews"
Released by Pirahna/Rounder - 1990
Theme, Doina and Freylekhs 21
Performed by The West End Klezmorim
From the album "Freylekhs 21"
Released by Global Village Music - 1991
Ir Kleyne Likhtelekh (Oh, You Little Lights)
Performed by the Klezmer Conservatory
Released by Rounder
Music details
Audio sample
Bulgur A La Klezmatics
Performed by The Klezmatics
Demeter And Persephone (premiere) | Martha Graham Dance Company
Fever - Sextet - Demeter & Persephone - Nine Sinatra Songs - Baker's Dozen | Twyla Tharp Dance
Fever - Octet - Demeter and Persephone - In The Upper Room | Twyla Tharp Dance