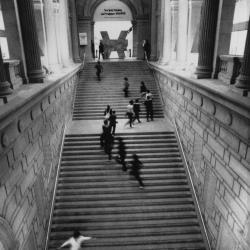 Premiere location place
Hartford, CT
Dance sections
I. The Drops and Dropping: The drops are a series of movements to be performed in a large crowd of people. The drop-series can also be distributed throughout the building (hallways, closets, water closets, elevators.)
II. The Series on Duality:
   1. The Home Phrase
   2. The Talky
   3. The Traveling Phrase
   4. Back-up Dance for Rose
   5. Cluster Breakers
III. The Posted Series:
   1. The Russian Gold Medal Competition Phrase
   2. The Minutes
IV. Lecturing: Lecture on the derivation of the 6/8 phrase from the Verdy Phrase and the Exercise Series. 
V. The Come-Upon Series: The spectator chances upon the movement.
   1. The Parlor Phrase
   2. The Wall Dance
VI. The Audience Phrase and Request Time: In Part I The Audience Phrase will occur in the Hilles Gallery on Floor 3 from 8:54 – 9:00; The Audience Request Time will occur in the Nuttin Gallery also on Floor 3 from 8:56 – 9:00. 
VII. Use of the Television: The monitors will provide the spectator access to activity in spaces other than the one he is in and will also direct his attention to aspects of the work we wish to emphasize. Also, we will want to show, particularly during The Drift, two simultaneous rhythms: that which can be built on the unique abilities of the TV camera and that of the actual performance, as perceived by the spectator.
Dancers
Graciela Figueroa, Sheela Raj, Sara Rudner, Twyla Tharp, Rose Marie Wright with Kristin Johnson, Anne Korin, Louanna Reid, Lillo Way
Stage Show: Arielle Dundore, Karen Fensterheim, Janet Frachtenberg, Alma Guillermoprieto, Barbara Kravitz
Total number of dancers
14
Choreographed for public spaces, Dancing in the Streets... reflects a fantasy of art going everywhere and being accessible to everyone. "Part of the premise was 'couldn't life and art be simultaneous?' So we read books, chewed gum, changed clothes and danced." (Twyla Tharp in Twyla Tharp's Scrapbook, 1983) The spectators were given newspaper-style programs to help guide them through the museum spaces. Closed-circuit television provided a live feed of the performance. Cameras followed the dancers, sending the images to a single viewing area where the audience could watch multiple rooms simultaneously.  
Dancing In The Streets... is the culmination of five years of work. It was performed in conjunction with a retrospective of Tharp's choreography. While the company performed upstairs, a 'B' company performed repertory excerpts from Tank Dive, Disperse, Group Activities, Generation, After 'Suite' and Medley in a basement gallery.  
Videos
Video Description
An excerpt from 30 minutes of footage recorded at the Wadswoth Atheneum.
Dancing in the Streets - Tank Dive - Disperse - Group Activities - Generation - After 'Suite' - Medley | Twyla Tharp and Dancers
The Metropolitan Museum of Art
Dancing in the Streets - Tank Dive - Disperse - Group Activities - Generation - After 'Suite' - Medley | Twyla Tharp and Dancers