Music details
Audio sample
Adagio from 1st Movement of Sinfonia No. 5 in F minor
Composed by Giovanni Battista Pergolesi, circa 1730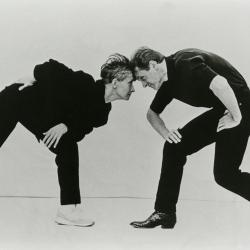 Premiere location place
Columbus, OH
Dance sections
Act I: Shtick
1. Opening Piano
2. Sextet Jam
3. I Get Along Without You
4. Ruifrok Song
5. Clowns/Armstrong
6. Faux Fosse
7. Theme and Variation
8. Rail Blues
9. Hooker: I Wanna Walk
10. Men's March
11. Homecoming/Berry/Mersey
Act II: Bare Bones
1. Adagop 6/8 Adagio
2. Olimpiade - Ha-ha
3. Andante - Maestoso
4. Finale
Act III: Food
1. Palm Court Suite
2. Three Fishes
3. Celeste/Jitterbug
4. As Time Goes By
5. One More For My Baby
6. Mortons
7. Finale
Other program information
Ballet Mistress: Shelley Washington
Manager for Twyla Tharp: Pennie Curry
Music Director and Pianist: Sterling Smith
From the premiere program: "Twyla Tharp wishes to thank the Wexner Center for the Arts and the Ohio State University for their support during the 1992 Tharp residency to create Cutting Up in Columbus. Ohio.
Tharp Productions gratefully acknowledges the generous support provided by the Avedon Studio, Leibovitz Studio, MPL Productions, Isaac Mizrahi Studio and WNET Great Performances." 
Cutting Up is a three-act roadshow headlined by Tharp and Baryshnikov. The opening act is a quick succession of flashy dance numbers. Company members join Tharp and Baryshnikov in various groupings for each section.
Act II is a duet for Tharp and Baryshnikov. The phrases combine their divergent dance techniques and histories in a playful competition. "Bare Bones" was later restructured as a solo for Baryshnikov called Pergolesi.  
The final act traces the history of social dance in American clubs and ballrooms, from the Palm Court in 1917 to Morton's LA in 1992. 
Videos
Video Description
Excerpts from Acts II & III.
Full music program
1. Jumpin' Tonight
by Sterling Smith
2. I Get Along Without You Very Well
Written by Hoagy Carmichael
Performed by Chet Baker
3. Song Without Words
by Henri Ruifrock
4. Rocks
By Sterling Smith
5. Who Sit
by Louis Armstrong
6. Faux Fosse
by Sterling Smith
7. Variations on Ruifrocks's "Song Without Words"
by Sterling Smith
8. Rail Blues
by Sterling Smith
9. I Wanna Walk
by John Lee Hooker
10. Noyz In The Hood
by Sterling Smith
11. Homecoming
by Sterling Smith
12. Ferry Cross the Mercy
by Gerard Marsden
13. Music composed by Giovanni Battista Pergolesi, circa 1730
I: Adagio from 1st movement of Sinfonia No. 5 in F Minor
II:Andante from 3rd movement of Adriano in Siria
III: Adagio from 1st movement of Sinfonia No. 5 in F Minor\
IV: Allegro from 1st movement of Olimpiade
V: Vivace from 3rd movement of Sinfonia No. 3 in A
VI: Andante from 2nd movement of Sinfonia in F Major
VII: Maestoso from 1st movement of Sinfonia in F Major
VIII:Allegro from 1st movement of Adriano in Siria
14. Two Step, Slow Drag, Waltz, Tango, Go Go
Arranged by Sterling Smith
15. Three Little Fishes
By Saxie Dowell
16. Celeste Boogie
by Sterling Smith
17. Jitterbug Boogie
by Sterling Smith
18. As Time Goes By
by Herman Hupfeld
19. One More For The Road
Sung by Frank Sinatra
20. Groove
by Sterling Smith
21. Finale
by Sterling Smith
Music details
Audio sample
Adagio from 1st Movement of Sinfonia No. 5 in F minor
Composed by Giovanni Battista Pergolesi, circa 1730
Cutting Up | Twyla Tharp Dance
Cutting Up | Twyla Tharp Dance
Cutting Up | Twyla Tharp Dance
Cutting Up | Twyla Tharp Dance
Cutting Up | Twyla Tharp Dance
Cutting Up | Twyla Tharp Dance
Cutting Up | Twyla Tharp Dance
Broward Center for the Performing Arts
Cutting Up | Twyla Tharp Dance
Texas A&M Rudder Auditorium
Cutting Up (premiere) | Twyla Tharp Dance
Wexner Center for the Arts