Music details
Audio sample
Alabama Jubilee
Performed by The Hired Hands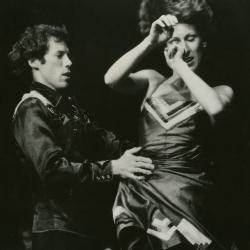 Premiere location place
Edinburgh, Scotland
Music by
Johnny and Albert Crockett
Dance sections
I. Texas Quickstep
II. Fifty Year Ago Waltz
III. Rat Cheese Under the Hill
IV. Cacklin' Hen and Rooster Too
V. Took My Gal A-Walkin'
VI. Fresno Blues
VII. Alabama Jubilee
Dancers
Tom Rawe, Shelley Washington, Jennifer Way, Christine Uchida
Total number of dancers
4
Other program information
Premiered during the Edinburgh International Festival in 1976. 
Productipon Stage Manager: Marty Kapell
Wardrobe Supervisor: Michael Dennison
Country Dances continuously shifts between duets, trios and a quartet; the dancers cut in, hand each other off and do-si-do through energetic partnering and square dance adaptations. The colorful silk costumes are inlaid with quilted squares, reminiscent of America's rural spirit. The piece closes with a final quartet that illustrates the camaraderie that has developed between the dancers.         
Country Dances was choreographed for the PBS special Making Television Dance, though it was performed live before the program aired in 1977.  
Videos
Video Description
Uchida, Way, Washington and Rawe perform "Alabama Jubilee."
Full music program
1. Texas Quickstep
By The Hired Hands
2. Fifty Year Ago Waltz
By The Hired Hands
3. Rat Cheese Under the Hill
By The Kessinger Brothers
4. Cacklin' Hen and Rooster Too
By The Skillet Lickers
From the Album Vol. 1, County 506 – date unknown
5. Took My Gal A-Walkin'
By Charlie Poole and The North Carolina Ramblers
Recorded by Columbia Records – 1928/07/23
6. Fresno Blues
By Johnny and Albert Crockett
From County 512
7. Alabama Jubilee
Written by Jack Yellen and George L. Cobb – 1915
Performed by The Hired Hands
Music details
Audio sample
Alabama Jubilee
Performed by The Hired Hands
Country Dances - Beethoven Opus 130 - Brahms Paganini | Twyla Tharp Dance (Tour)
Country Dances - Beethoven Opus 130 - Brahms Paganini | Twyla Tharp Dance (NY Season)
Country Dances - Beethoven Opus 130 - Brahms Paganini | Twyla Tharp Dance (Residency)
Country Dances | North Carolina School of the Arts
North Carolina School of the Arts
Country Dances | Friends University
Country Dances | Hunter College
Country Dances | Company C Ballet
Country Dances - Brahms Paganini - Sue's Leg | Twyla Tharp Dance
Saratoga Performing Arts Center
Eight Jelly Rolls - Country Dances - Cacklin' Hen - 1903 - Baker's Dozen | Twyla Tharp Dance
Brooklyn Academy of Music
Baker's Dozen (preview) - 1903 - Country Dances - Cacklin' Hen - Eight Jelly Rolls | Twyla Tharp Dance
Country Dances - The Fugue - Sue's Leg | Twyla Tharp Dance
Jacob's Pillow Dance Festival
Sue's Leg - Simon Medley - Country Dances - Cacklin' Hen | Twyla Tharp Dance
Country Dances - Cacklin' Hen - The One Hundreds - Sue's Leg | Twyla Tharp Dance
Brooklyn Academy of Music
Country Dances - The Fugue - Eight Jelly Rolls | Twyla Tharp Dance
University of South Florida
Country Dances - From Hither and Yon - Sue's Leg | Twyla Tharp Dance
University of South Florida
Country Dances - The Fugue - From Hither and Yon | Twyla Tharp Dance
26th Berlin Festival at Akademie der Künste
Country Dances - Hither and Yon (premiere) - The Fugue | Twyla Tharp Dance
Country Dances (premiere) - The Fugue - Eight Jelly Rolls | Twyla Tharp Dance