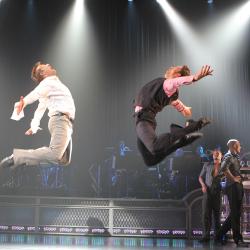 Premiere location place
Atlanta, GA
Dance sections
"Stardust"...Marty and Betsy
"Luck Be a Lady"...Company
"Lets Fall in Love"...Marty and Betsy
"Fly Me to the Moon"...Hank, Kate & Ensemble Men
"I've Got a Crush On You"...Sid and Babe
"Body and Soul"...Sid, Babe, Chanos & Ensemble
"Here's to the Losers"...Company
"You Make Me Feel So Young"...Marty, Betsy and Sid
"Witchcraft"...Sid, Babe & Ensemble Men
"Yes Sir, That's My Baby"...Chanos, Slim & Ensemble
"Learnin' the Blues"...Kate, Hank, Slim & Ensemble Women
"That's Life"...Hank and Kate
"Makin' Whoopee"...Slim, Kate, Marty, Betsy & Ensemble
"I Like to Lead When I  Dance"...Sid and Babe
"Jumpin' at the Woodside"...The Band
"Saturday Night is the Loneliest Night of the Week"...Company
"I'm Gonna Live 'Til I Die"...Company
"Pick Yourself Up"...Marty and Betsy
"Let's Face the Music and Dance"...Hank, Kate, Slim, Anthony Burrell & Ensemble
"Teach Me Tonight"...Sid and Babe
"Take Five"...Sid, Babe, Marty, Betsy & Ensemble
"Lean Baby"...Slim, Anthony Burrell, Michael Williams
"Makin'Whoopee" (reprise)...Slim, Chanos, Kate & Ensemble
"One for My Baby"...Hank and Kate
"The Way You Look Tonight / My Funny Valentine"...Marty and Betsy
"My Way"...Company
"New York, New York"...Company
Total number of dancers
14
Other program information
Concept and Book by:  Twyla Tharp
Sound Design:  Peter McBoyle
Music Coordinator:  Talitha Fehr
Music Director:  Rob Cookman
Creative Consultant:  Charles Pignone
Casting By:  Stuart Howard / Amy Schecter / Paul Hardt
Associate Director / Choreographer:  Kim Craven
Production Stage Manager:  Tom Bartlett
Resident Director:  John Selya
Dance Captain:  Laurie Kanyok
Music Copying:  Terry Woodson, Gary Cordell, Nathan Thomas, Donovan Seidle
General Manager:  Roberta Roberts
Company Manager:  DeAnn L. Boise
The Come Fly Away Band
Conductor/Piano:  Rob Cookman
Reeds:  P.J. Perry, Mark Promane, Sasha Boychouk, Pol Coussee
Trumpets:  Mike Herriott, Jim Keen, Jason Logue
Trombones:  James Nelson, Al Kay, Colin Murray
Bass:  Dave Young
Drums:  Paul Ringenbach
Tharp launched a national tour of Come Fly Away three months after the Las Vegas show closed. The tour opened in August 2011 and visited 32 cities in America and Canada. The production closed in August 2012, after playing four weeks in Japan. 
Full music program
List of songs in order of appearance:
1. Stardust
Composed by Hoagy Carmichael – 1927
Lyrics by Mitchell Parish – 1929
From the album "Sinatra and Strings"
Released on Reprise Records – 1962
2. Luck Be a Lady
Words and Music by Frank Loesser – 1950
From the album "Sinatra '65: The Singer Today"
Released by Reprise Records – 1965
3. Let's Fall in Love
Words and Music by Ted Koehler and Harold Arlen – 1933
Recorded by Sinatra – 1960
Released by Bourne Co.
4. Fly Me to the Moon (In Other Words)
Words and Music by Bart Howard – 1954
From the album "It Might As Well Be Swing"
Released by Reprise Records – 1964
5. I've Got a Crush On You
Composed by George Gershwin
Lyrics by Ira Gershwin – 1930
Originally recorded by Sinatra – 1947
6. Body and Soul
Composed by Johnny Green
Lyrics by Frank Eyton, Edward Heyman and Robert B. Sour – 1930
From the album "Frankly Sentimental"
Released by Columbia Records – 1949
7. Here's to the Losers
Written by Jack Segal and Robert Wells
From the album "Softly, as I Leave You"
Released by Reprise Records – 1964
8. You Make Me Feel So Young
Composed by Josef Myrow
Lyrics by Mack Gordon – 1946
From the album "Sinatra at the Sands"
Released by Reprise Records – 1966
9. Witchcraft
Composed by Cy Coleman
Lyrics by Carolyn Leigh – 1957
From the album "All The Way"
Released by Capitol Records – 1961
10. Yes Sir, That's My Baby
Composed by Walter Donaldson
Lyrics by Gus Kahn – 1925
From the album "Strangers in the Night"
Released by Reprise Records – 1966
11. Learnin' the Blues
Written by Dolores Vicki Silvers – 1955
From the album "Sinatra-Basie: An Historical Musical First"
Released by Reprise Records – 1962
12. That's Life
Written by Dean Kay and Kelly L. Gordon
From the album "That's Life"
Released by Reprise records – 1966
13. Makin' Whoopee
Composed by Walter Donaldson
Lyrics by Gus Kahn
From the album "Songs for Swingin' Lovers"
Released by Capitol Records – 1956
14. I Like to Lead When I Dance
Written by Sammy Cahn and Jimmy Van Heusen
From the B-side of "My Kind Of Town"
Released by Reprise Records – 1964
15. Jumpin' at the Woodside
Written by Count Basie and Jon Hendricks
From the album "Count Basie Live At The Sands (Before Frank)"
Released by Reprise records – 1998
16. Saturday Night Is the Loneliest Night of the Week
Composed by Jule Styne
Lyrics by Sammy Cahn
Released by Columbia Records – 1944
17. I'm Gonna Live 'Til I Die
Words and music by Al Hoffman, Walter Kent and Manny Kurtz
From the B-side "Melody Of Love"
Released by Capitol Records – 1955
18. Pick Yourself Up
Composed by Jerome Kern
Lyrics by Dorothy Fields – 1936
From the album "Sinatra and Swingin' Brass"
Released by Reprise Records – 1962
19. Let's Face the Music and Dance
Words and Music by Irving Berlin – 1936
From the album "Ring-a-Ding-Ding"
Released by Reprise Records – 1961
20. Teach Me Tonight
Composed by Gene De Paul
Lyrics by Sammy Cahn – 1953
From the album "L.A. Is My Lady"
Released by Warner Bros. Records – 1984
21. Take Five
Composed by Paul Desmond – 1959
Originally Performed by The Dave Brubeck Quartet
22. Lean Baby
Written by Roy Alfred and Billy May
From the album "Swing Easy"
Released by Capitol Records – 1954
23. One for My Baby (And One More for the Road)
Written by Johnny Mercer and Harold Arlen – 1943
From the album "Sinatra at the Sands"
Released by Reprise Records – 1966
24. The Way You Look
Composed by Jerome Kern
Lyrics by Dorothy Fields – 1936
From the album "Sinatra Sings Days Of Wine And Roses, Moon River, And Other Academy Award Winners"
Released by Reprise Records – 1964
25. My Funny Valentine
Words and music by Richard Rodgers and Lorenz Hart – 1937
From the album "Songs for Young Lovers"
Released by Capitol Records – 1954
26. My Way
Composed by Claude Francois and Jacques Revaux – 1967
Lyrics by Paul Anka – 1968
From the album "My Way"
Released by Reprise Records – 1969
27. New York, New York (Theme)
Composed by John Kander
Lyrics by Fred Ebb
From the album "Trilogy: Past, Present and Future"
Released by Reprise Records – 1980
Come Fly Away Tour (premiere)