Music details
Audio sample
Allegretto
Composed by Ludwig van Beethoven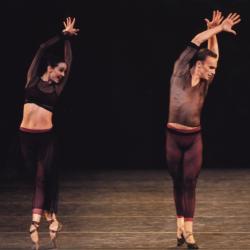 Premiere location place
New York, NY
Dance sections
I. Poco Sostenuto-Vivace: Ringer, Boal, Allen, Angle, Clavert, Marcovici, Riggins, Gold, Rutherford, Hofmans, Somogyi, Millepied, Tracey, Higgins
II. Allegretto: Whelan, Hubbe, Angle, Gold, Hofmans, Millepied
III. Presto: Weese, Woetzel, Allen, Calvert, Riggins, Rutherford, Somogyi, Tracey, Angle, Gold, Hofmans, Higgins, Marcovici, Millepied
IV. Allegro Con Brio: Weese, Ringer, Whelan, Woetzel, Boal, Hubbe, Allen, Calvert, Riggins, Rutherford, Somogyi, Tracey, Angle, Gold, Hofmans, Higgins, Marcovici, Millepied
Total number of dancers
18
Other program information
Artistic director Peter Martins commissioned Tharp to create a new work for the dancers of New York City Ballet. The Beethoven Seventh features six principal dancers and six ensemble couples.
The ballet, like the symphony, is fast and rhythmically driven. Each of the first three movements lead by principal couple features its own characteristic mood and rhythm. The ensemble provides a common thread between sections, until the fourth movement combines the full cast in the finale. 
Videos
Video Description
A brief excerpt featuring dancers of the New York City Ballet.
Full music program
Symphony No. 7 in A Major, Op. 92
Composed by Ludwig van Beethoven - 1811
I. Poco sostenuto – Vivace
II. Allegretto
III. Presto – Assai meno presto (trio)
IV. Allegro con brio
Music details
Audio sample
Allegretto
Composed by Ludwig van Beethoven
The Beethoven Seventh | New York City Ballet
The Beethoven Seventh | New York City Ballet
The Beethoven Seventh (premiere) | New York City Ballet