Music details
Audio sample
Molto Allegro
From "Sonata for Two Pianos in D Major
Composed by W.A. Mozart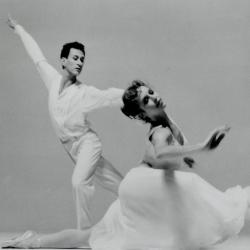 Premiere location place
Highland Park, IL
Total number of dancers
7
Other program information
From the original program: "This work made possible in part by grants from the New York State Council on the Arts and the National Endowment for the Arts."
Ballare is a classical ballet blanc set to Mozart's "Sonata for Two Pianos in D Major." The interplay of the two keyboards creates a sense of three-dimensionality in the music. 
The movement is refined and confident, clear but not easy. The choreography shifts with the changes in formation and recombination of the dancers. These adjustments happen in much the same way that Mozart shifts the emphasis in the sonata through the coordination of the two pianos.
Videos
Video Description
Company dancers in the final movement.
Full music program
Sonata for Two Pianos in D Major, K. 448
Composed by W.A. Mozart - 1781
1. Allegro con spirito
2. Andante
3. Molto Allegro
Music details
Audio sample
Molto Allegro
From "Sonata for Two Pianos in D Major
Composed by W.A. Mozart
Ballare - The Fugue - Nine Sinatra Songs | Twyla Tharp Dance
Ballare - The Fugue - Nine Sinatra Songs | Twyla Tharp Dance
Brooklyn Academy of Music
Ballare - The Fugue - Nine Sinatra Songs | Twyla Tharp Dance
Ballare - The Fugue - Nine Sinatra Songs | Twyla Tharp Dance
Ballare - The Fugue - Nine Sinatra Songs | Twyla Tharp Dance
Ballare - The Fugue - Nine Sinatra Songs | Twyla Tharp Dance
Ballare (premiere) - The Fugue - Nine Sinatra Songs | Twyla Tharp Dance
The Murray Theatre at Ravinia