Music details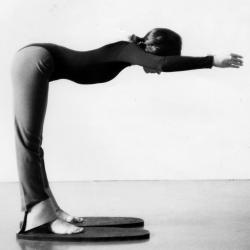 Premiere location place
New York, NY
Dance sections
I. Solo: Tharp
II. Quartet: Constance, Huot, McFarland, Severson
III. Solo: Tharp
Dancers
Twyla Tharp with Ann McFarland, Anne Severson, Christopher Constance, Robert Huot
Tank Dive begins as Tharp enters a darkened room wearing a pair of heeled shoes. She stands in parallel fourth position and spins a yo-yo representing the earth. The pop hit "Downtown" plays in the background as a tongue-in-cheek statement about the location of the New York underground arts scene and its rebellion against popular culture. Tharp counterbalances in a flat-back position against the weight of a second pair of shoes, a direct reference to the Egyptian goddess Nut. The title Tank Dive reflects Tharp's belief that becoming a successful choreographer is equivalent to the chances of successfully diving into a thimbleful of water from a great height. These specially designed, oversized wooden shoes also serve as springboard to her exaggerated diver's poses.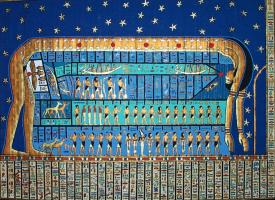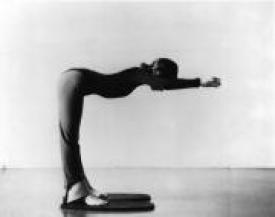 The Egyptian Goddess Nut (left) and Tharp in flat-back position
The second section of the dance is a quartet in which performers quickly weave in and out of the space, moving diagonally from corner to corner.  
The final section is a short solo for Tharp that recalls the yo-yo's unraveling action with spiraling movements towards the floor. A final, fast recovery ends the piece with another iconic image as Tharp snaps into a pose duplicating that of Da Vinci's Vitruvian Man.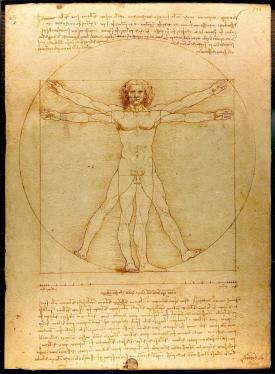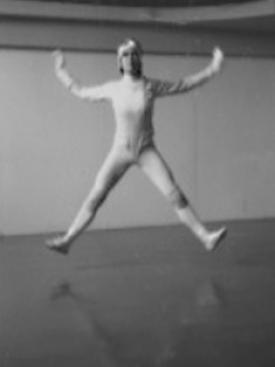 Leonardo Da Vinci's The Vitruvian Man (left) and Tharp duplicating the position.
Full music program
Downtown
Written by Tony Hatch
Performed by Petula Clark
Released by Warner Bros Records - 1965
Music details
Dancing in the Streets - Tank Dive - Disperse - Group Activities - Generation - After 'Suite' - Medley | Twyla Tharp and Dancers
The Metropolitan Museum of Art
Dancing in the Streets - Tank Dive - Disperse - Group Activities - Generation - After 'Suite' - Medley | Twyla Tharp and Dancers
Tank Dive | Twyla Tharp and Dancers
Re-Moves (premiere) - Twelve Foot Change (premiere) - Tank Dive | Twyla Tharp and Dancers
Hunter College Art Dept. - Room 1604