Music details
Audio sample
Bohemia Rag
by Joseph Lamb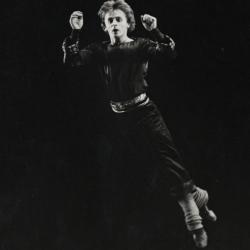 Premiere location place
New York, NY
Dance sections
Prelude: Baryshnikov, Tcherkassky, van Hamel
Movement I: Baryshnikov, van Hamel, Tcherkassky
Movement II: Tcherkassky, Jones, Johansson, Kudo, Kuchera, Provancha, Shibata, Warner, Whitaker, Elliott, Blaisdell, Frazer, Hale, Mayer, O'Neal, Prieto, Spizzo, Wesche
Movement III: van Hamel, Tippet, Ashton, Harvey, Maule, Popeleski, Barbee, Conover, Hughes, Schafer
Movement VI: Entire Ensemble with Aponte
Chorus
Amy Blaisdell, Susan Frazer, Melissa Hale, Susan Jones, Marie Johannson, Elaine Kudo, Linda Kuchera, Ruth Mayer, Christine O'Neal, Berthica Prieto, Leigh Provancha, Janet Shibata, Christine Spizzo, Denise Warner, Patricia Wesche, Sandall Whitaker
Total number of dancers
29
Other program information
Conductor: Akira Endo
From the original program: "Ballet Theatre Foundation gratefully akcnowledges the gift from Mr. & Mrs. Robert E. Rubin which has made this production possible."
American Ballet Theatre commissioned Push Comes To Shove for their newest premier danseur Mikhail Baryshnikov.
The central male character introduced in the prelude carries the easy ragtime feeling throughout the work.  He serves as a master of ceremonies, leading his company of dancers in Haydn's Symphony No. 82.
Tharp had previously created works for her modern dance company that wedded classical and popular music styles, but Push Comes To Shove marks the first such work ever presented by a major ballet company.
Full music program
1. Bohemia Rag
Composed by Joseph Lamb
Published by Stark Music Co. – 1919
2. Vivace Assai
From "Symphony No. 82 in C Major"
Composed by Franz Joseph Haydn – 1786
3. Allegretto
From "Symphony No. 82 in C Major"
Composed by Franz Joseph Haydn – 1786
4. Menuet e Trio
From "Symphony No. 82 in C Major"
Composed by Franz Joseph Haydn – 1786
5. Vivace
From "Symphony No. 82 in C Major"
Composed by Franz Joseph Haydn – 1786
Music details
Audio sample
Bohemia Rag
by Joseph Lamb
Push Comes To Shove (excerpt) | American Ballet Theatre
Push Comes To Shove | Pennsylvania Ballet
Push Comes To Shove - Surfer At The River Styx - Nine Sinatra Songs | Washington Ballet
The Kennedy Center for the Performing Arts
Push Comes To Shove | Tulsa Ballet
Tulsa Performing Arts Center
Push Comes To Shove | Washington Ballet
Push Comes To Shove | New National Theatre Tokyo
New National Theatre Tokyo Playhouse
Push Comes To Shove | Pennsylvania Ballet
Push Comes To Shove | Miami City Ballet
Push Comes To Shove | K Ballet
Push Comes To Shove - In The Upper Room | Royal Swedish Ballet
Push Comes To Shove | Ballett Zürich
Push Comes To Shove | American Ballet Theatre
University of Iowa, Hancher Auditorium
Junk Duet - Push Comes To Shove | American Ballet Theatre
Push Comes To Shove | Paris Opera
Push Comes To Shove | American Ballet Theatre
Orange County Performing Arts Center
Bach Partita - LittleBallet - Sinatra Suite - Push Comes To Shove | American Ballet Theater
Wang Center at Stony Brook University
Push Comes To Shove | American Ballet Theatre
Wang Center at Stony Brook University
Push Comes To Shove | American Ballet Theatre
Push Comes To Shove | American Ballet Theatre
Push Comes To Shove (premiere) | American Ballet Theatre