Music details
Audio sample
Prelude and Fugue in C Minor
Composed by Gregor Werner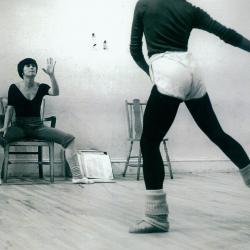 Premiere location place
Brooklyn, NY
Dance sections
I. Prelude and Fugue in C Minor: Tharp, Wright, Way, Washington
II. The Stars and Stripes Forever: Tharp, Wright, Rinker, Rawe, Way, Washington
III. The Chimes of Liberty: Tharp, Wright, Rinker, Way, Washigton
IV. American Patrol: Washington with Wright, Rinker, Rawe, Way
V. The Liberty Bell: Wright, Rinker, Rawe, Way, Washington
VI. Willow Weep for Me: Wright
Total number of dancers
6
Other program information
Production Stage Manager: Marty Kapell
Special Thanks: Alan Lomax, Lawrence Odom, Ed Radonic, Robin Richman, Richard Tauber, William Whitehead, Imero Fiorentino Associates. 
From the original program:  "I am honored to dedicate this series of perfromances, marking the Company's 10th anniversary, to Rose Marie Wright. Without her these pieces would not exist. - Twyla Tharp"
Give and Take was created for the tenth anniversary of Tharp's company and was performed only for that season. The work, created in the American Bicentennial year, was also an homage to George Balanchine for his contributions to ballet in America. In the long-standing musical tradition of basing a set of variations on an existing theme, Tharp samples a phrase from his ballet Stars and Stripes. The resulting variations were presented as a thank you to Mr. Balanchine, who was in attendance for the premiere.
Videos
Video Description
Company dancers in an excerpt from "The Liberty Bell."
Full music program
1. Prelude and Fugue in C minor
Composed by Gregor Werner
Date Unkown
2. Stars and Stripes Forever
Composed by John Phillip Sousa
Originally recorded in 1897
3. The Chimes of Liberty
Composed by Edwin Franko Goldman – 1937
4. American Patrol
Composed by Frank Meacham – 1885
Published by Carl Fisher – 1891
5. The Liberty Bell
Composed by John Phillip Sousa
From the Operetta " The Devil's Deputy" – 1893
6. Willow Weep for Me
Written and Composed by Ann Ronell – 1932
Music details
Audio sample
Prelude and Fugue in C Minor
Composed by Gregor Werner
Give and Take - The Rags Suite - Sue's Leg - Bach Duet | Twyla Tharp Dance
Give and Take - The Rags Suite - Bach Duet - Sue's Leg | Twyla Tharp Dance
Brooklyn Academy of Music
Give And Take (premiere) - The Fugue - Eight Jelly Rolls | Twyla Tharp Dance
Brooklyn Academy of Music