Music details
Audio sample
Cold Cold Heart
by Hank Williams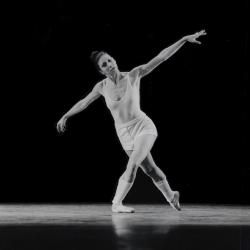 Premiere location place
St. Paul, MN
Dance sections
I. Drill: Wright, Rinker, Rawe, Way
II. Lalene (Jarret): Rinker, Rawe, Way
III. Cold, Cold Heart (Williams): Rinker, Way
VI. Parade of the Wooden Soldiers (Jessel): Wright
V. Traumerei, Scenes From Childhood (Opus 15, Schumann): Rinker, Rawe
VI. On the Trail, Grand Canyon Suite (Grofe):
      Trio: Rinker, Rawe, Way
      Quartet: Wright, Rinker, Rawe, Way
      Trio: Rinker, Rawe, Way
VII. Jesu, Der Du Meine Seele (Cantata, BWV 78, Bach): Wright, Rinker
Dancers
Tom Rawe, Kenneth Rinker, Jennifer Way, Rose Marie Wright
Total number of dancers
4
Other program information
From the original program:  The choreographer wishes to thank Peter Altman for his assistance with The Double Cross text.
Text Spoken by: Arnold Walker and Emily Schmit
Knots Tied By: Mark Matthews
Costumes Executed By: Barbara Matera, Ltd.
Production Coordinator: Penny Curry
Stage Manager: Robin Kronstadt
Live vocalists: Emily Schmit (Soprano) and Melanie Sonnenberg (Mezzo)
Live music:  Betty Martin (Cello), Donna Tolbert (Double Bass), Ted Gillen (Organ)
The title The Double Cross symbolizes the close ties Tharp and her company made during their multiple residencies in St. Paul, Minnesota. The knot tying reference was reinforced during the performance as members of the community tied knots in ropes that were hung on the upstage wall. Musicians and actors were brought in as supporting players.  
The work also illustrates how a variety of music and dance styles can be woven together to form a single cohesive work. The dance follows a 4-3-2-1-2-3-4 pattern, starting with a quartet, working down to a solo, and back up to a quartet.
Two months after the St. Paul premiere, Tharp presented The Double Cross at Town Hall in New York City. For this performance, Tharp added a new section that combined her company with actors from Andre Gregory's The Manhattan Project. She created short movement phrases for Gregory and the actors to perform. They executed their choreography while reciting complicated monologues and dodging the arms and legs of Tharp and dancers.
Videos
Video Description
Wright performs at Town Hall in New York City.
Full music program
1. Lalene
Written and Performed by Keith Jarrett
From the Album "Facing You" – 1971
Published by ECM Records
2. Cold Cold Heart
Written and Performed by Hank Williams
Originally a B-side to the single "Dear John" – 1951
Published by MGM
3. Parade Of the Wooden Soldiers
Music by Leon Jessel – 1897
4. Traumerei / Scenes from Childhood, Opus 15 No. 7
Composed by Robert Schumann – 1838
5. On the Trail, From Grand Canyon Suite
Written by Ferde Grofé (Ferdinand von Grofé) – 1931
6. Jesu, Der Du Meine Seele, Cantata, BWV 78,
Composed by J.S. Bach – 1724
Music details
Audio sample
Cold Cold Heart
by Hank Williams
Sue's Leg - Double Cross - Bach Duet | Twyla Tharp Dance
Sue's Leg - The Double Cross | Twyla Tharp Dance
Sue's Leg (premiere) - The Double Cross (premiere) | Twyla Tharp Dance