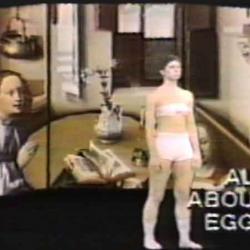 Dance sections
I. Cooking Eggs: Wright
II. Bach Duet: Wright and Rinker
III. Four Voice Chroma Key: Rawe
With All About Eggs, Tharp used the medium of television to project an idea, rather than film a pre-existing dance restaged in a pre-existing set.  
Inspired by 15th Century Flemish painters, the first section questions the efficacy of communication in a modern world. A single message is delivered simultaneously in three different ways as Rose Marie Wright performs mimetic gestures in front a tryptic of shifting images while a voice over translates her actions into English.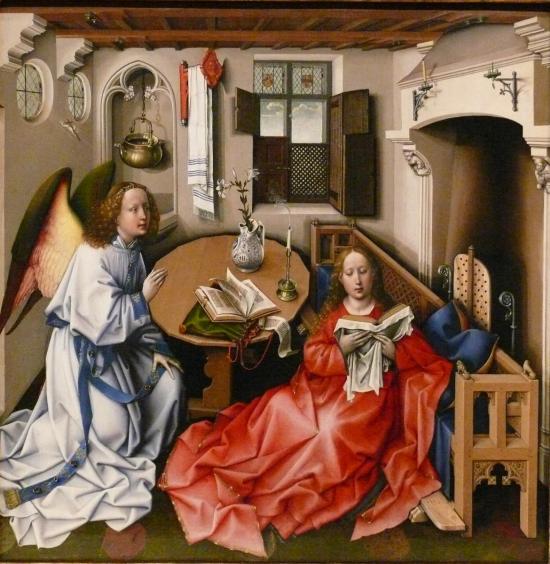 The Mérode Altarpiece by Robert Campin seen in the background of the opening image. 
Next is a duet to Bach's Cantata 78 for Wright and Kenneth Rinker, which would later premiere independently under the title The Bach Duet.
Finally a solo for Tom Rawe morphs into a quartet as Rawe's image was multiplied using early chroma key technology.
All About Eggs has never been screened in full. 
Videos
Video Description
Brief excerpts from "Cooking Eggs" and "Four Voice Chroma Key."
Full music program
Jesu, Der Du Meine Seele, Cantata, BWV 78  
Composed by Johann Sebastian Bach – 1724