Music details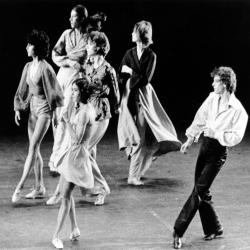 Premiere location place
New York, NY
Dance sections
I. Joplin:  Fig Leaf Rag
Rudner, Wright, Tharp, Garcia-Lorca
II. Joplin:  Scott Joplin's New Rag
Rudner, Wright, Tharp, Garcia-Lorca, Rinker, Weiner
III. Roberts:  Pork and Beans 
Tharp, Rinker
IV. Bolcom:  Graceful Ghost
Tharp, Wiener
V. Joplin:  Maple Leaf Rag
Tharp, Garcia-Lorca, Rudner, Rinker, Wright, Wiener
VI. Joplin:  The Entertainer
Tharp
VII. Joplin:  The Ragtime Dance 
Wright, Rinker
VIII. Joplin:  Gladiolus Rag
Tharp, Rudner, Garcia-Lorca, Rinker, Wiener
IX. Mozart: Variations in C Major KV 265 "Ah Vous Dirai-Je Maman"
Rudner, Wright
Total number of dancers
6
Other program information
Premiered during the The City Center American Dance Marathon of 1972.
The Raggedy Dances is a much wider exploration of a single theme than Tharp had done before. The choreography has a feeling of simple, playful innocence. False entrances and a tongue-in-cheek striptease to "The Entertainer" give the dance a zany quality. As the six dancers shake, shimmy and roll their way through the movement, the easiness of the ragtime seamlessly transitions into a set of Mozart variations, popularly known as "Twinkle, Twinkle Little Star". Both the Mozart and Joplin compositions present a world of controlled lightness and naïveté.
Videos
Video Description
Wright and Rinker perform the closing duet.
Full music program
1. Fig Leaf Rag
Composed by Scott Joplin – 1908
2. Scott Joplin's New Rag
Composed by Scott Joplin – 1912
3. Pork and Beans - One Step, Two Step or Turkey Trot
Composed by Charles Luckeyth Roberts
Copyright by Jos. W. Stern & Co. – 1913
4. Graceful Ghost Rag
Composed by William Bolcom – 1970
5. Maple Leaf Rag
Composed by Scott Joplin
Copyright Registered – 1899
6. The Entertainer
Composed by Scott Joplin
Copyright – 12/29/1902
Published by John Stark & Son
7. The Ragtime Dance
Composed by Scott Joplin – 1906
8. Gladiolus Rag
Composed by Scott Joplin - 1907
9. Ah, Vous Dirai-je, Maman / Variations in C major, KV 265
Composed by Wolfgang Amadeus Mozart – circa 1781
Music details
The Raggedy Dances - The Fugue - Entr'Acte - Dylan Love Songs | Twyla Tharp Dance (NY Season)
Catskills Residency - preview performance | Twyla Tharp Dance
Catskills Mountain Foundation
The Raggedy Dances - The One Hundreds | Twyla Tharp Dance
The Raggedy Dances - The One Hundreds - The Bix Pieces - Eight Jelly Rolls | Twyla Tharp Dance
University of Pennsylvania
The Raggedy Dances - The One Hundreds - Eight Jelly Rolls | Twyla Tharp Dance
North Shore Community Arts Center
The Raggedy Dances - The Fugue - The Bix Pieces - Eight Jelly Rolls | Twyla Tharp Dance
The Raggedy Dances - The Fugue - Eight Jelly Rolls | Twyla Tharp Dance
The Raggedy Dances - The One Hundreds - The Bix Pieces | Twyla Tharp Dance
The Bix Pieces - The Raggedy Dances | Twyla Tharp Dance
Jacob's Pillow Dance Festival
The Bix Pieces - The Raggedy Dances - The One Hundreds | Twyla Tharp Dance
The Raggedy Dances (premiere) | Twyla Tharp Dance
The Bix Pieces - The Raggedy Dances (preview) | Twyla Tharp Dance